First Minister Nicola Sturgeon has said blanket school closures are considered "several times a day" and could be implemented in the coming days.
The Scottish Government, along with the UK Government and other devolved administrations, has been against the idea of closing all schools in the country in the wake of the coronavirus outbreak.
Reasons have ranged from the pressure of childcare on frontline workers, along with the risks presented to children who are no longer in school.
However, the First Minister told BBC News "it's highly possible that we will see a more blanket approach to school closures in the coming days."
She added: "So far we have judged that the potential downside of blanket school closures – for the wellbeing of children first and foremost – but also the impact that it would have on protecting our frontline NHS and social care staff outweigh the potential benefits of that.
"That's been the judgment so far, but as I say that is not fixed."
The First Minister also said there is a "resilience issue" which could be caused, particularly if teachers are forced to self-isolate, which could lead to school closures being deemed necessary.
She added: "I think I said on Good Morning Scotland that this was under daily consideration, actually this is under consideration several times a day."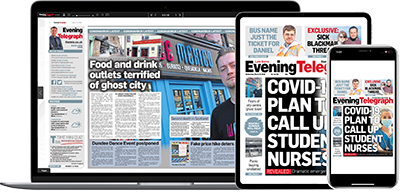 Help support quality local journalism … become a digital subscriber to the Evening Telegraph
For as little as £5.99 a month you can access all of our content, including Premium articles.
Subscribe