Sports projects in Africa that tackle social issues affecting women and girls are to receive £1.75 million joint funding from the Scottish Government and Comic Relief.
The second phase of the Levelling the Field project will help fund sporting organisations to challenge issues such as violence against women in Malawi, Rwanda and Zambia.
With £1 million from the Scottish Government and £750,000 coming from Comic Relief fundraising, the programme will also try to increase access to education, employment and training for marginalised women and girls.
Scotland's International Development Minister Jenny Gilruth announced the new phase of funding at an event to celebrate Sport Relief in Edinburgh on Thursday afternoon.
She was joined by representatives of Tackle Africa, a previous recipient of funding that uses the popularity of football to deliver HIV and sexual and reproductive health and rights information to young people in Africa.
Speaking ahead of the event at Davidson's Mains Primary School, Ms Gilruth said: "We know that sport can be a powerful tool for social change so I'm pleased to announce the Scottish Government is again teaming up with Comic Relief to build on the success of our previous work together for Levelling the Field, phase two.
"We've been working together for eight years now and it is through this partnership – and the public's generosity – that we have been able to support organisations using sport to tackle challenges faced by women in some of the world's most vulnerable communities.
"It's been great to see how one of the grantees, Tackle Africa, use the funding in practice and also hearing of the excellent fundraising activities by the pupils and staff at Davidson's Mains Primary School over the past few years."
Harriet Jameson, an interim executive director for Comic Relief, said: "We're incredibly excited to launch the next phase of our partnership with the Scottish Government.
"Levelling the Field started in 2017 to support Sport for Change projects that tackle social issues including negative gender stereotypes and violence experienced by women and girls so that they can develop essential life skills, improve their self-esteem and increase their access to education, employment and training, creating leadership opportunities.
"Our next phase will build on this so that we can empower and inspire even more marginalised women and girls."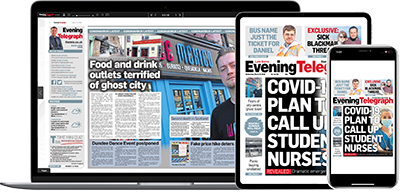 Help support quality local journalism … become a digital subscriber to the Evening Telegraph
For as little as £5.99 a month you can access all of our content, including Premium articles.
Subscribe