Insurance giant Prudential has unveiled plans to float its US business after pressure from an activist investor.
The FTSE 100 firm said it is preparing for a minority IPO (initial public offering) of its Michigan-based Jackson business.
The move comes after Dan Loeb, who runs the Third Point fund, revealed a 5% stake in Prudential and called for Jackson to be split from the fast-growing Asian business.
Jackson has been owned by Prudential since 1986 and the company said it hopes the float will fund efforts to diversify its products in the US over the next decade.
Prudential group chief executive Mike Wells said: "In order to diversify at pace, Jackson will need access to additional investment, which we believe would best be provided by third parties.
"Today we are announcing that preparations have commenced for a minority IPO of Jackson and we have already taken a number of management actions to support this path.
"We will now commence detailed engagement with our key stakeholders, with a view to ensuring that Jackson will have the capital strength as a separately listed business to support its continued success as a broad provider of retirement solutions for America's ageing population."
Last year, Mr Wells told investors that the company was exploring options to support the US arm, which he said could include "reinsurance and third-party financing".
The planned shake-up comes months after Prudential spun off its UK and European arm M&G to be floated on the London Stock Exchange.
It came as the company said the outbreak of Covid-19 has "dampened" its sales momentum in Hong Kong and China and it believes a decrease in new sales in areas affected by the virus could weigh on its profits.
The insurance giant provided the update as it reported a 20% jump in adjusted operating profit from continued operations to 5.31 billion US dollars (£4.11 billion), on the back of strong growth in Asia.
Mr Wells added: "The broad geographic spread of our business across the region and the strength of our recurring premium business model lends considerable resilience to our earnings.
"I am confident that, with our clear focus on our structural growth markets and our continuing operational improvements, we will continue to deliver profitable growth for our investors and benefits for our stakeholders over the medium and long term."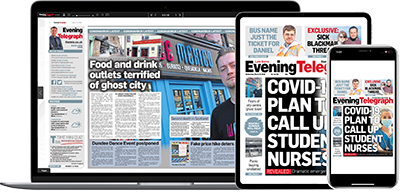 Help support quality local journalism … become a digital subscriber to the Evening Telegraph
For as little as £5.99 a month you can access all of our content, including Premium articles.
Subscribe