Firefighters are tackling a blaze at a former army building in Paisley.
The fire broke out at the old Territorial Army Centre in the high street in the Renfrewshire town on Wednesday afternoon.
Flames could be seen coming through the roof, with images and video of the blaze shared on social media.
A Scottish Fire and Rescue Service spokesman confirmed the building, across the road from the University of the West of Scotland (UWS) campus, was vacant.
Three crews were at the scene, with no casualties reported.
The spokesman said: "We were alerted at 3.33pm on Wednesday March 11 to reports of a vacant building on fire on High Street, Paisley, in Renfrewshire.
"Operations control mobilised three fire appliances and a height appliance to the scene, where crews are working to contain and extinguish the fire.
"There are no reported casualties at this time."
Sofie Jaehn, an animation student at the UWS Paisley campus, witnessed the blaze.
She told the PA news agency: "As far as I can see, the majority of the flames have gone out, but there's still crews working on it.
"They've been there for about two hours solidly firing water at it, it just looks like a lot of smoke now.
"Earlier it looked extremely bad, the entire roof looked to be on fire.
"I've not been in Paisley for too long as I'm a student here, but it certainly is an iconic building that was in need of renovation and now might have to be demolished.
"Which is such a shame as it fits in well with architecture around it; Coates church and the museum.
"It's definitely really sad to see such an old building burning down."
A statement from Renfrewshire Council said: "Due to a fire at the former Territorial Army building on Paisley High Street, the road is closed and police and fire services are in attendance.
"Please avoid the area where possible until further notice."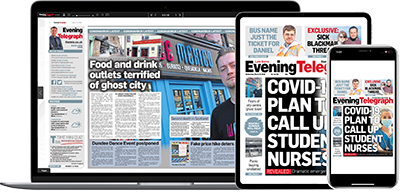 Help support quality local journalism … become a digital subscriber to the Evening Telegraph
For as little as £5.99 a month you can access all of our content, including Premium articles.
Subscribe