Tottenham head coach Jose Mourinho does not expect Son Heung-min to play again this season.
The South Korea international has undergone surgery on a broken arm suffered in Sunday's 3-2 win against Aston Villa, where he scored two goals with the injury.
The club have said that he will be out for a "number of weeks" but Mourinho is much more pessimistic.
It is a massive blow to Spurs, who could be without Harry Kane for the rest of the season, given the fact Son has scored six goals in the last five games.
Mourinho described the news as heartbreaking and says that he must now "play without a striker".
"I don't count on him again this season," he said ahead of Tottenham's Champions League tie with RB Leipzig.
"If he plays two or three games then it's because he (the press officer) is very optimistic, but I'm not counting on him.
"Yeah, bad news. For how long we are going to miss him, Simon (Felstein, press officer) said a very nice way to write the statement.
"If I was the one to write the statement I would write different than he did. So you can understand what I mean. We miss him. According to Simon for a number of weeks.
"Yesterday the bad news – the first thing was to break our hearts and the second thing was to break our team.
"But we have to recover from broken hearts and we have to fight with the team we have."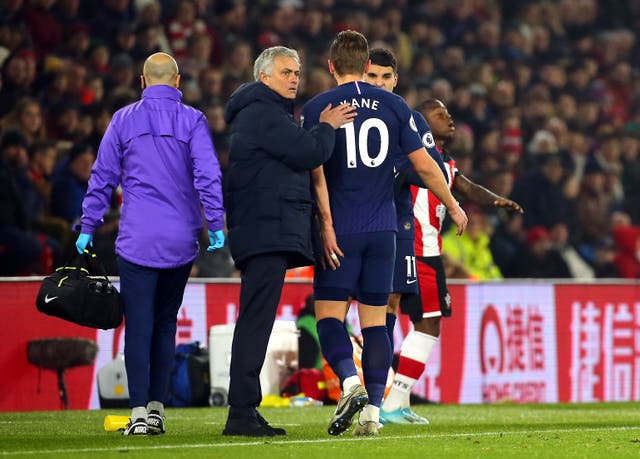 The timing could not be worse for Spurs given they are entering a possible season-defining period, with the two-legged Champions League tie with the Bundesliga side and games against top-four rivals Chelsea, Wolves and Manchester United in the next four weeks.
RB Leipzig head coach Julian Nagelsmann insists his side's Champions League clash with Mourinho's Tottenham is not the master versus the apprentice.
Nagelsmann, 32, was dubbed 'Baby Mourinho' after making early waves as a coach, having to give up playing while still a teenager due to injury.
He became the Bundesliga's youngest ever manager aged 28 when he took over at Hoffenheim in 2016 and is widely regarded as one of European football's up-and-coming coaches.
Wednesday's last-16 first leg at the Tottenham Hotspur Stadium will be his – and Leipzig's – first taste of a knockout game in the Champions League, something that Mourinho is an old hat at.
The Portuguese has won the competition twice, which means Nagelsmann is full of respect for him, but says the tie is not about them.
"It is only a game between Leipzig and Tottenham. Eight years ago Tim Weise called me Baby Mourinho, but that was only for two weeks. After that he called me Julian again," he said.
"Tomorrow it is Leipzig against Tottenham, not Mourinho v Baby Mourinho."
Leipzig have injury concerns of their own as Ibrahima Konate, Willi Orban, Kevin Kampl and Tyler Adams are all injury while Dayot Upamecano is suspended.