The Prince of Wales has marked the 50th anniversary of the opening of the huge Pirelli Tyres factory in Carlisle with a tour of the site.
Charles began his day-long visit to Cumbria at the factory, which first opened in 1969 and employs 900 people in the local area.
He toured the Italian firm's operation, spoke to bosses at the company, and chatted with shift workers and apprentices.
Pirelli has been operating in the UK since 1929, and employs 1,300 people at its sites in Carlisle and Burton-on-Trent.
At the end of the 50-minute visit, Charles unveiled a plaque to mark the occasion, receiving a round of applause from factory workers.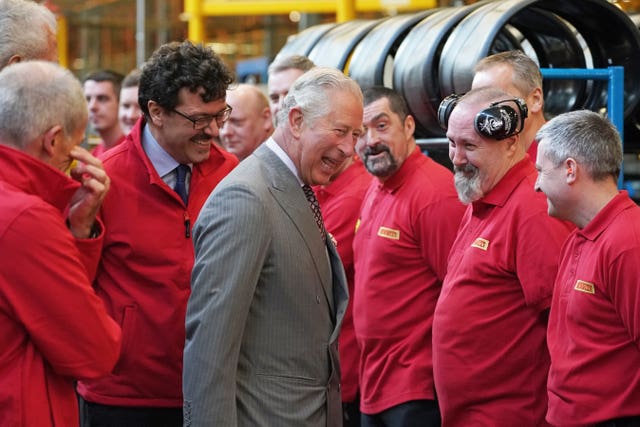 Chief executive Marco Tronchetti Provera said: "It's a special day for Carlisle. A special day for Pirelli.
"It was a great honour to welcome His Royal Highness to our factory in Carlisle during this important anniversary year, and so celebrate the enduring and fruitful relationship between Pirelli and the United Kingdom.
"It will be a day that we will all long remember."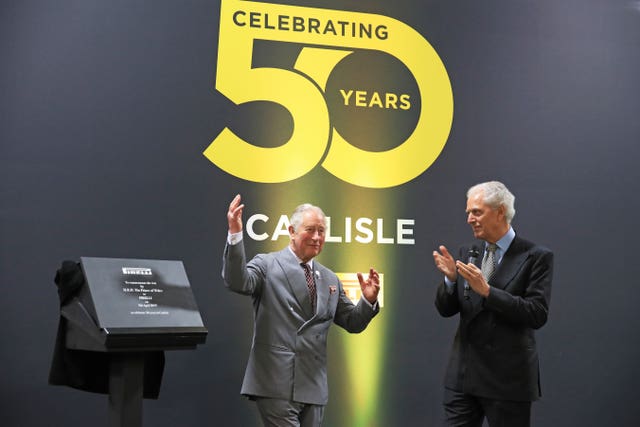 The factory focuses on tyres for premium and prestige cars and Charles was shown a range of supercars.
The royal visitor chatted with the firm's senior managers as he viewed a Range Rover, a McLaren Spider, a Jaguar E Type, a Ferrari Dino and an Aston Martin DBS Superleggera – all fitted with Pirelli tyres.
The prince was accompanied on the visit by Italian Ambassador to the UK Raffaele Trombetta, and Andrew Mitchell, HM Trade Commissioner for Europe.
Later, Charles met members of the Langdale Ambleside mountain rescue team and watched a demonstration at their Ambleside headquarters of how the deal with injured patients.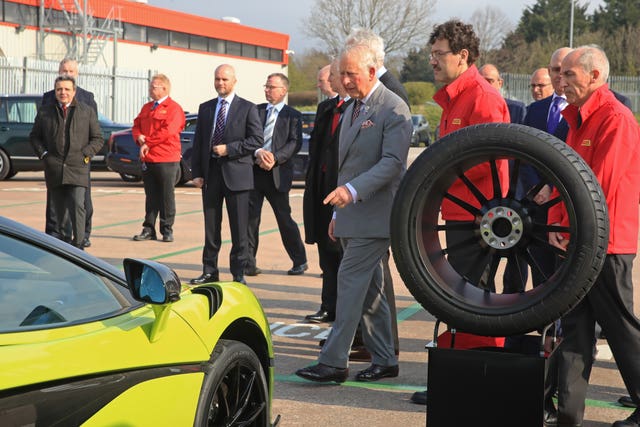 The group, staffed by volunteers and funded by public donations, is called out around 100 times a year, with 25 incidents logged so far in 2019.
Charles told the volunteers: "I'm full of admiration for all the work you do, if I may say so, rescuing people and all the different callouts you have to deal (with) out in this part of the world.
"We are very lucky indeed in this country to have all these different mountain rescue teams.
"I occasionally come across one in Scotland, in the Grampian region, and I know just how hard you all work and how dedicated you all are."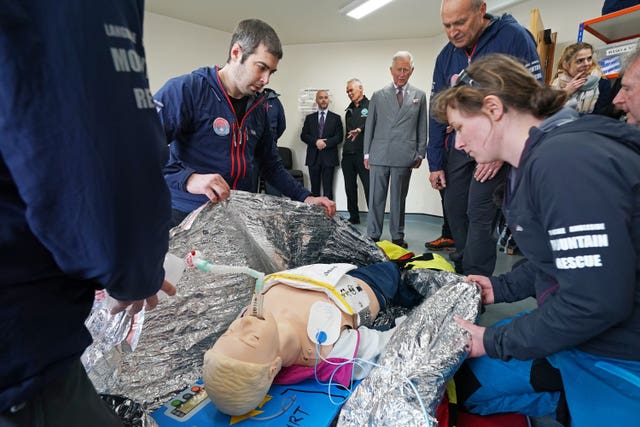 The Ambleside team covers the Langdale, Ambleside, Grasmere and Windermere areas primarily, but works across the Lake District with other mountain rescue services in major incidents.
While touring the base, Charles met Ted, a seven-year-old border collie veteran of 99 rescue searches, and his owner Roger Pickup, a volunteer who is also a professor of bio-medicine at Lancaster University.
He also met former paratrooper Justin Hale, who was rescued by the team in December 2018 after falling into a gully while fell running on Steel Fell and fracturing his spine in two places.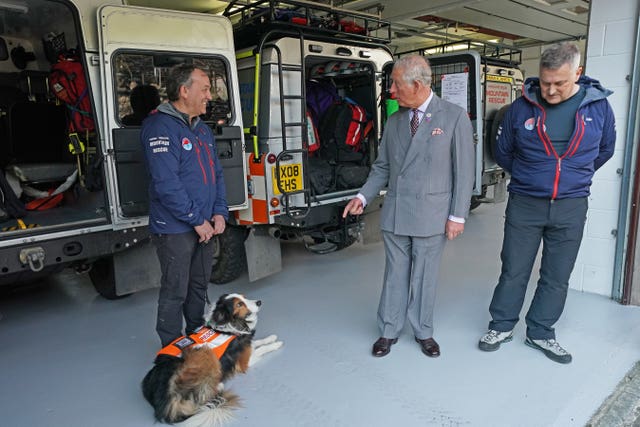 After the visit, rescue team leader Nick Owen said: "It's been great. Everybody seems to have really enjoyed it.
"All the team members are volunteers and their families make sacrifices to allow this to happen, so it is good to get recognition."
The prince's trip to Cumbria ended with a visit to Hawkshead.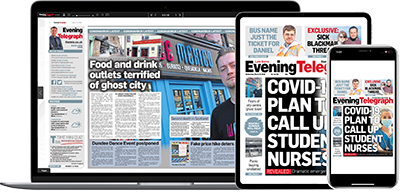 Help support quality local journalism … become a digital subscriber to the Evening Telegraph
Subscribe