Transport giant Stagecoach has revealed talks to sell its US business after an £85.4 million writedown in the division sent the group tumbling to a loss.
The bus and rail group swung to a pre-tax loss of £22.6 million for the six months to October 27 against profits of £96.7 million a year earlier.
It said it was in "ongoing" talks over a sale of the US arm, where it runs the megabus.com business, but was reviewing all options.
Stagecoach said the writedown for the US division reflected a "revised view on long-term profitability" as it struggles amid increased competition.
Martin Griffiths, chief executive of Stagecoach, said: "While we recognise the competitive challenges in some of our markets in the UK and North America, we are confident that public transport will be central to delivering government priorities to grow the economy, connect people and communities, reduce road congestion and improve air quality.
"We are reviewing strategic options for the North America Division and that includes ongoing discussions regarding a possible sale of all or part of the business."
Stagecoach has had a tumultuous year after being stripped of the East Coast Main Line franchise by the Government in June.
The group, which ran the line as a joint venture with Virgin, has already previously revealed an £85.6 million financial impact from losing the franchise, which was taken back into public control after the operators failed to achieve revenue targets.
Stagecoach said it was set to take another £45 million cash charge for the lost franchise, as detailed in its annual report, but added that despite the East Coast woes, its rail business had performed better than it expected.
This is set to boost its full-year earnings per share outlook.
Shares jumped 7% after news of the possible US sale and better earnings outlook.
Revenues across the group fell from £1.8 billion last year to £1.2 billion after the loss of the East Coast and South West Trains franchises, with rail turnover down 62.7%.
The North American division saw revenues fall 3.2%, while earnings fell to 21.2 million US dollars from 27.6 million US dollars.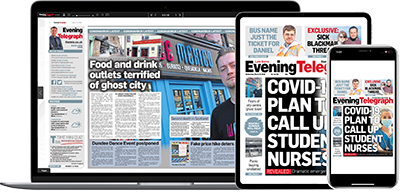 Help support quality local journalism … become a digital subscriber to the Evening Telegraph
For as little as £5.99 a month you can access all of our content, including Premium articles.
Subscribe