A seven-year-old boy who saw a gunman shoot a man dead outside a Belfast school has been left traumatised, his mother said.
Police are searching for the lone gunman who shot the man, named locally as Jim Donegan, as he was sitting in his luxury Porsche car.
Mr Donegan, who was aged in his 40s, was targeted in the gangland-style attack in front of scores of terrified children.
A gunman wearing a high-visibility vest with the word security emblazoned on the back left the scene on foot, detectives from the Police Service of Northern Ireland said.
The mother of a seven-year-old boy who saw the gunman told Q Radio News that her son is now anxious about returning to school.
The incident happened outside St Mary's Grammar School in west Belfast at around 3.15pm when scores of children were departing.
The school is closed and pupils will be offered counselling.
There are a number of schools in the area.
Chief Superintendent Jonathan Roberts said children could have been killed during what he termed "an absolutely disgraceful and reckless act".
The mother of the seven-year-old told Q Radio News that she fled with her son after seeing the gunman.
"I heard about six or seven gun shots and then I heard someone screaming, my son saw it, he was able to tell me he saw a man up ahead with a hi-vis vest on, and his hood up and carrying a bag," she said.
"He was still standing there at the time so I just turned with him (her son) and ran up the street.
"It was very scary, more so for him (her son), he is still freaking out about if he is still going to be there tomorrow, he has been asking me, will they all be away when he is going to school?"
She added: "It's not a place to do anything like that, it's not right any time, but right outside three/four schools on that road. It's just disgraceful."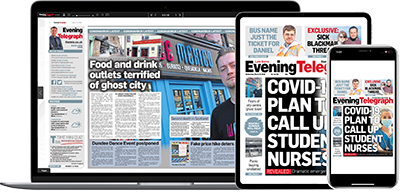 Help support quality local journalism … become a digital subscriber to the Evening Telegraph
For as little as £5.99 a month you can access all of our content, including Premium articles.
Subscribe