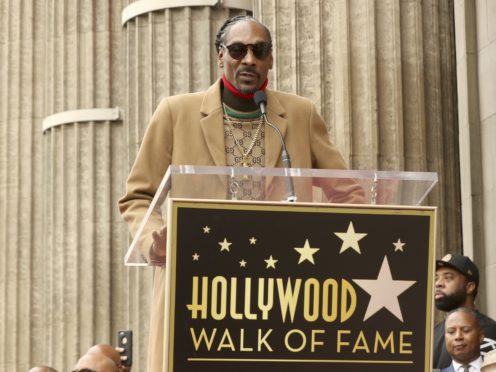 Snoop Dogg said he hopes he can be a positive influence on the next generation of rappers as he was honoured with a star on the Hollywood Walk of Fame.
The musician, whose career spans three decades, is known for hits including What's My Name?, Gin & Juice and Snoop's Upside Ya Head and was one of the stars of the 1990s West Coast hip-hop scene.
The genre produced immensely popular music while being controversial for its themes of gang violence and crime. One of its main stars, Tupac Shakur, was shot dead in 1996.
During his Walk of Fame ceremony in Los Angeles on Monday, Snoop Dogg, real name Calvin Cordozar Broadus Jr, thanked famed music producer Quincy Jones for helping him throughout his career and said he hoped he could help today's rappers "cut through the mess early".
He said: "He has always been like a mentor to us, been like a big brother to us, helping us understand we needed to be more positive and instrumental with our voices.
"Now I'm looking back on it I can say I am thankful for Quincy being who he was for trying to tell us to get our lives right, be more positive and more productive because now that I'm a positive and productive man I can walk around more peaceful, more happy.
"And I want to thank you Quincy for instilling that in me and hopefully I'll instill that into the young generation of rappers so they won't have to go through the mess we went through and cut the mess early and just get straight to the business."
Snoop Dogg was joined at the ceremony by fellow stars of hip-hop including Dr Dre, Pharrell Williams and Warren G.
Hollywood Boulevard was brought to a standstill as hundreds of fans packed the street to watch Snoop Dogg speak.
After thanking his fans and collaborators, the 47-year-old thanked himself in a typically bombast manner.
He said: "I want to thank me for believing in me, I want to thank me for doing all this hard work, I want to thank me for having no days off, I want to thank me for never quitting, I want to thank me for always being a giver and trying to give more than I receive.
"I want to thank me for trying to do more right than wrong, I want to thank me for just being me at all times. Snoop Dog, you a bad motherf*****."
Rapper and music producer Dr Dre, who has worked with Snoop Dogg since the early 1990s, joined chatshow host Jimmy Kimmel and Jones in speaking at the ceremony.
Jones introduced Snoop Dogg to the stage and described him as a "visionary".
He said: "I am so enormously proud of all you have achieved professionally, man. And personally too, for making doggy style a way of life. And for being one of the first entrepreneurs to be a positive role model and influence in the community.
"And it's no surprise to me because I've always known there's no undertaking or challenge you could not overcome. You are not just an artist and entertainer you are a visionary and you deserve this star on the Hollywood Walk of Fame and every other recognition that comes your way."
Snoop Dogg's was the 2,651st star on the Walk of Fame.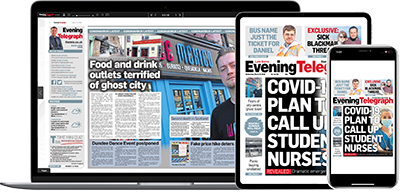 Help support quality local journalism … become a digital subscriber to the Evening Telegraph
Subscribe