A couple have been able to bring their wedding forward by a year and buy their dream home thanks to a £1 million Lotto win.
Air conditioning engineer Mick Tyler, 35, and his legal assistant fiancee, Sarah Harmer, 33, from Snodland in Kent, discovered they had won the Lotto Millionaire Raffle prize the day before they left for a week in Portugal.
Their raffle number came up after they £30 online and played a line on each Lotto draw on September 29.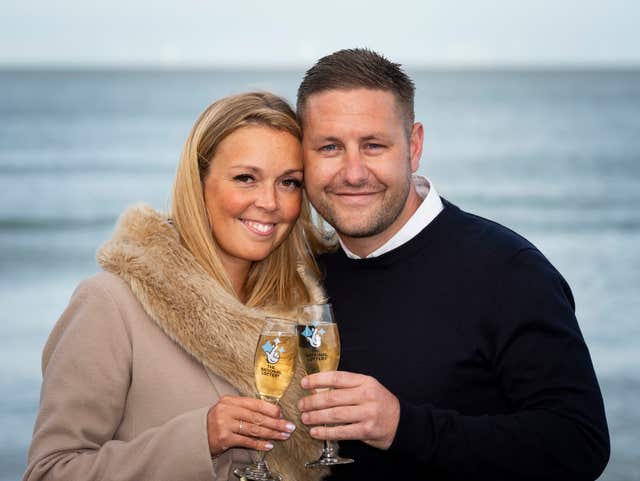 They confirmed their winnings before they went on holiday, but while away wasted no time in reserving the house and rearranging their wedding.
They had initially set a date in 2020 to give them enough time to save but can now tie the knot next year.
They will now also fly first-class to America for their honeymoon.
The couple celebrated with a photoshoot on Friday at Reculver Towers 12th century church ruin in Herne Bay, where they got engaged on Christmas Eve.
Mr Tyler said they have gone from choosing wallpaper for their three-bedroom semi-detached house to picking flooring and fixtures for their five-bedroom detached dream home.
He added: "This is all so utterly mad and yet so flipping brilliant.
"When the win was confirmed we both screamed, before calling all the family and telling them to come over to celebrate.
"There was a lot of shouting and laughter, not your average Monday morning, I don't know what the neighbours thought was going on. They were probably grateful for the peace when we disappeared on holiday the following day.
"For months every evening we have been walking our dog, Ralph, past this development of beautiful homes, joking that if we won the lottery we'd move there.
"And now we have, and now we will."
The couple plan to continue working but are considering setting up their own business or investing in property in future.