The DUP has predicted "developments" in the Government's Brexit position over the weekend.
The UK has suggested a temporary customs arrangement between the EU and country as a whole, with the expectation that a permanent future deal would be in place by the end of 2021.
The EU has criticised that plan and Prime Minister Theresa May faces dissension within her own ranks.
DUP deputy leader Nigel Dodds said on Friday: "I think there could be developments over the weekend in terms of the Government's own position and the Cabinet, so we will remain focused on the priorities for Northern Ireland."
He added: "Let's hope that we get a deal, but in the case of a no-deal scenario we will have to manage that, but our aim is to get a sensible deal but one that respects the integrity of the UK."
Democratic Unionists have threatened "consequences" if the Government does anything which could undermine the constitutional integrity of the UK.
It is adamant it will not agree to anything which results in imposition of customs or trade checks between Northern Ireland and the rest of the UK, known as a border in the Irish Sea.
Prime Minister Theresa May relies on her DUP allies' 10 MPs to prop up her minority Government in key votes and there have been suggestions the Northern Irish party could vote against the Budget.
Europe has largely interpreted the Irish border backstop to mean Northern Ireland could continue to follow its trade rules to ensure an open frontier even if the UK leaves without a deal in March.
DUP leader Arlene Foster said the party would stand by its red line on the constitutional and economic integrity of the UK "come what may".
She said: "This is a very fluid negotiation, things are continuing to happen and therefore we felt it was necessary to be very clear that for us the one red line in relation to the UK is one that we will stand by come what may.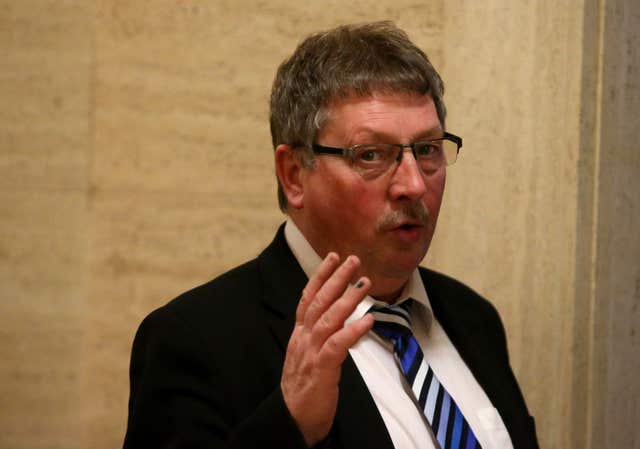 "It is very important for us that we keep the constitutional integrity of the UK but also the economic integrity, and that is the point that we have been making in Brussels, and indeed for Nigel and his team in London as well."
The leaders briefed party members in Portadown in Co Armagh after Mrs Foster met Michel Barnier in Brussels earlier this week.
Brexit spokesman Sammy Wilson urged Mrs May to show EU negotiators "the door".
He said: "She has declared herself to be a unionist, she has repeated that time and time again, she knows the consequences if she walks away from that promise, not just for Northern Ireland because of course she will open a Pandora's box in Scotland as well.
"I am sure the Prime Minister is well aware of the grave responsibility which lies on her shoulders."
He added: "Go with your principles, go with your instinct, go with your responsibility to the people of the UK and show the EU negotiators the door."