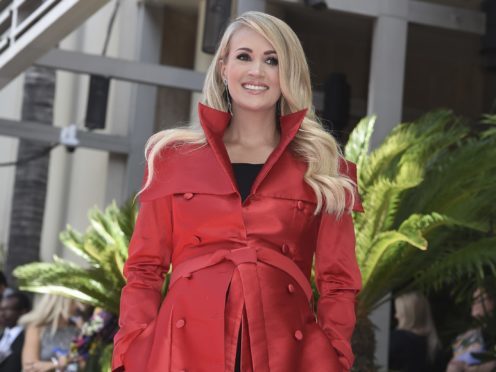 Carrie Underwood said "belief" has been the key to her success as she was honoured with a star on the Hollywood Walk of Fame.
The US country music singer, 35, rose to fame after winning American Idol in 2005 – and has since gone on to be the biggest-selling artist from the show, with more than 65 million records sold worldwide.
On Thursday, Underwood was described as "this generation's Dolly Parton" during the unveiling of her star outside the Capitol Records building in Los Angeles.
Underwood, who is pregnant with her second child, fought back tears as she said her success was down to belief.
She said: "How does a girl from Checotah, Oklahoma, end up getting a star on the Hollywood Walk of Fame? I will tell you how – belief.
"This is absolutely amazing and a dream come true. Thank you for believing in me, fans, family, friends and the incredible people who I get to work with. That's how this happens – belief."
Underwood, who this month released her sixth studio album, Cry Pretty, added: "So, believe in people, believe in yourself and thank you."
She then paid tribute to her hockey player husband, Mike Fisher, and their three-year-old son, Isaiah, who were both seated yards away.
Simon Cowell was one of the judges on the fourth season of American Idol, which Underwood won.
He told the audience in Hollywood the series had been "the worst… I have ever had in my life to that point".
Cowell said Underwood's appearance turned the series "into full colour", adding: "That was the effect Carrie had on me, the producers and the other judges that day. I thought we may have found a great artist, and we did.
"I have had so many people over the years come up to me and say, 'I would love to be a tenth as successful as Carrie Underwood'. But to do that you have to have determination, you have got to have talent.
"Behind that smile is eyes of steel, trust me. And that is the sign of a winner. And that is what I always adored about you, Carrie."
Underwood's fellow country music star, Brad Paisley, compared her impact on country music to that of Dolly Parton.
He said: "Carrie Underwood is in many ways this generation's Dolly. The person that the world looks to as Miss Country Music. And I just don't think we could ask for a better ambassador, a better person."
Underwood's star was number 2,646 on the Walk of Fame.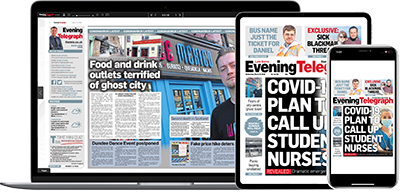 Help support quality local journalism … become a digital subscriber to the Evening Telegraph
For as little as £5.99 a month you can access all of our content, including Premium articles.
Subscribe