The Duke of Cambridge joked about the pungent smell of a Border Force lock-up holding seizures of herbal cannabis during a visit to a Royal Mail depot.
William quipped to Border Force officers "We'd better get out of here before we have a drugs test" after spending five minutes in the storeroom.
The duke was visiting the Royal Mail's International Logistics centre near Langley in Berkshire, where the officers are based, to learn more about how his United for Wildlife transport taskforce is helping to tackle trafficking in illegal wildlife products.
Royal Mail, a taskforce member, and the Border Force work closely together to identify packages carrying banned animal, insect or plant items coming into the centre from abroad.
In the lock-up, officers showed William a seized Arctic fox skull, rare butterflies and other banned animal parts, as well as hundreds of bagged weapons like knives and electric stun devices found during August.
The royal visitor, who wore a fluorescent safety bib, said: "That's a staggering amount of weapons in a month through the postal system."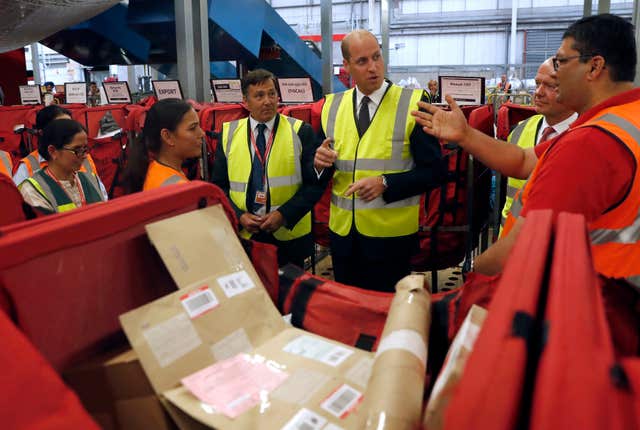 Clive Perry, Border Force's senior manager, postal command, told the duke the centre deals with packages under 2.2kg (5lb).
This means they could find "cannabis up to 250 grams, maybe half a kilo, but with Class A (drugs) it's normally around 30-40 grams, it's a birthday card or something with a couple of dealer bags in there.
"It's quite easy to find but very hard to hide in a letter."
When William joked about the odour in the air, he added there was "quite a good strong smell" and Mr Perry joked: "I think my lot are immune to it."
The duke launched United for Wildlife two years ago to unite the transport industry to find better ways of closing down criminal supply routes for banned wildlife products.
Royal Mail is a signatory of United for Wildlife's 2016 Buckingham Palace Declaration, which brought together global transport industry leaders.
William was joined at the depot by former Conservative Party leader Lord Hague, who leads the United for Wildlife international taskforce on the transportation of illegal wildlife products.
During the visit, the duke watched as Border Force officers opened suspect packages, and looked on in disgust as a rock python skin was pulled from one along with ivory products including a comb, an ornate box and a bracelet.
Afterwards, Mr Perry spoke about the help United for Wildlife was providing.
"The prince was talking about intelligence and how they're gathering that to aid us in detecting stuff at the border," he said.
"The more we can have on intelligence the better, we have a limited number of staff and we do what we can to find (banned) items."