The daughter of a British couple who died at a resort hotel in Egypt believes there is "something suspicious" behind their deaths.
John and Susan Cooper, from Burnley, Lancashire, were "fit and healthy" before their holiday and in "perfect health" just hours before being taken ill, daughter Kelly Ormerod said.
The mother of three was on a break with her parents and children before tragedy struck on Tuesday morning.
The family were staying at the Steigenberger Aqua Magic Hotel in the Red Sea resort of Hurghada when Mr Cooper, 69, died in his room.
Mrs Ormerod said her 63-year-old mother, a Thomas Cook employee, was taken to hospital but died.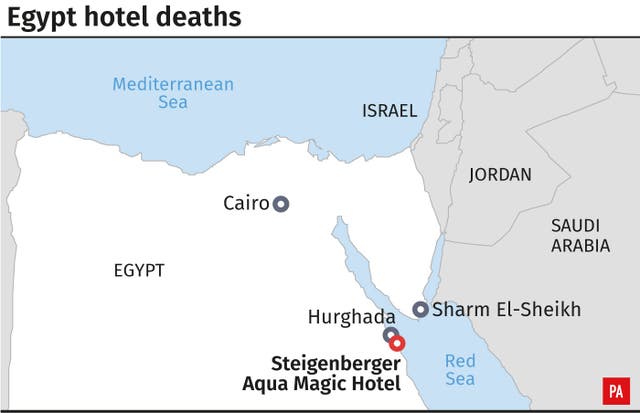 She told Sky News: "They had no illness, no stomach upset, no vomiting, no illness whatsoever – they were in perfect health when they went to bed.
"When we woke up, my mum hadn't come down to sit on the sunbeds so I went to knock on the door and saw that they were both very unwell.
"It was about 11am when I went to the bedroom. They said they were extremely ill and need help.
"I watched them die before my very eyes and they had exactly the same symptoms.
"I believe something suspicious has gone on … something has happened in that room and caused them to be taken away from us."
She added the family were in "utter shock" as they await results of post-mortem examinations on the couple, who had booked the holiday with Thomas Cook.
There is currently no evidence to suggest the deaths were caused by carbon monoxide poisoning, which had been reported as a possible factor, the travel operator said.
The circumstances of the deaths remain unclear, the company said, adding that it has sent 24 staff to support around 300 customers in the hotel.
Hotel guests reported widespread food poisoning symptoms and Thomas Cook said there had been a "raised level of illness among guests".
Alison Cope, from Moseley, Birmingham, said she has been at the hotel for two weeks, and five out of seven of her family members have been ill for around 10 days.
The 44-year-old, who flies home on Friday evening, told the Press Association: "The food is just disgusting, it's undercooked. I know so many people have been ill.
"Half the time we don't know what it is and can't eat it because it's raw in the middle."
One guest, who wished to remain anonymous, said children had suffered ear infections and claimed the pool water was changed overnight on Tuesday and there was a strong smell of disinfectant around the resort on Wednesday.
The hotel doctor, chef and food safety manager had a "stand-up row in the main buffet restaurant" on Wednesday, he said.
But Dieter Geiger, general manager at Aqua Magic, said there was no evidence to support an "increased incidence of illness" at the hotel, which he dismissed as "rash speculations".
"The doctor's preliminary report indicates that death was due to natural causes," he said.
Holidaymakers are being offered alternative hotels within Hurghada as well as the option to return home, Thomas Cook said.
Ms Cope believes most guests are choosing to fly home rather than move resort.
Alban Barker, who lives close to the Coopers' home and knew Mr Cooper for around 30 years, paid tribute to a "really great couple".
He told the Press Association Mr Cooper was a clay pigeon shooting enthusiast and had carried out extensive building work for him, his daughters and friends, and was an "extremely good, very reliable builder".
The 70-year-old said: "They were Burnley season ticket holders and used to come into the local pub after games for a chat. I'll be going tonight and the mood may be quite sombre.
"I bumped into them the other week and told him, 'It's about time you retired' and he just laughed and said, 'I'm fine, I'm fit enough'.
"He looked well, he was a strong man. They were both working and were quite fit people, his is a physical job.
"They both worked jolly hard and used to go on holiday regularly. They seemed to go everywhere together."
In a statement to Lancashire-based radio station 2BR, Mrs Ormerod said: "As a family we are devastated. Mum and Dad meant the world to me and the children, and we are in utter shock over what has happened and what is happening.
"Prior to going on holiday, Mum and Dad were fit and healthy. They had no health problems at all.
"Thomas Cook have been amazing, we have support from the company and I can't praise them enough for what they've done."
A Thomas Cook spokesman said: "We are deeply saddened by the tragic deaths of two of our customers.
"The circumstances of their deaths are still unclear. We have also received further reports of a raised level of illness among guests.
"Safety is always our first priority, so as a precautionary measure we have taken a decision to remove all our customers from this hotel.
"We continue to work closely with the hotel and are supporting the authorities with their investigations.
"The Steigenberger Aqua Magic Hotel was last audited by Thomas Cook in late July 2018 and received an overall score of 96%.
"We will be contacting those customers due to travel to the Steigenberger Aqua Magic Hotel in Hurghada in the next four weeks to offer alternative holiday options."
The listing for the hotel on the Thomas Cook website includes a line saying: "Sorry, there is currently no availability."