Drivers embarking on a bank holiday getaway will be hit by fuel prices at a four-year high.
The estimated 14 million cars taking to UK roads for leisure trips this weekend will cost an average of £1.29 per litre of unleaded and £1.33 per litre of diesel, Government figures show.
Press Association analysis found unleaded prices have not been this high since August 2014, while diesel is at its most expensive since September 2014.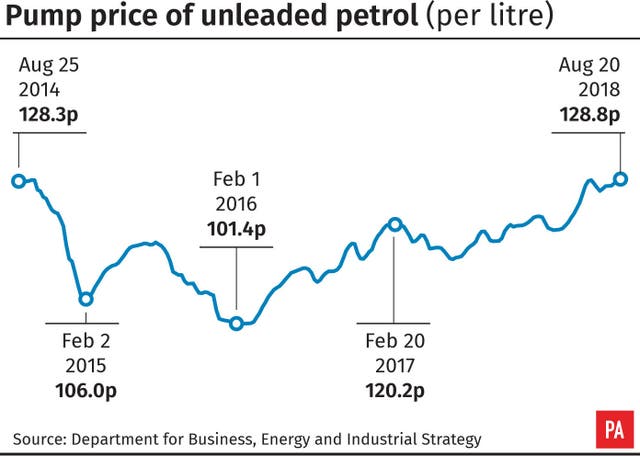 RAC fuel spokesman Simon Williams warned that "drivers are bound to have felt the impact of rising prices", with the cost of filling up typical 55-litre family petrol and diesel cars increasing by £5.50 since April.
He said the weakness of the pound means it is more expensive for retailers to purchase fuel, which is "inevitably leading to higher prices at the pumps".
Higher fuel prices can also lead to higher inflation, putting a further squeeze on household spending, he added.
Those planning a day out may be concerned that Met Office forecasts suggest a cold front will bring cooler conditions by Friday, with temperatures in the "mid to high teens at best" by the start of the weekend.
The RAC said its research suggests 11.2 million people have planned a car journey for a day trip or extended break between Thursday and bank holiday Monday, while a further 3.2 million intend to drive during the period but are undecided on which day.
Highways England is lifting or completing more than 300 miles of roadworks from motorways and major A roads from Friday morning.
The busiest times on the road for getaway trips are expected to be on Friday and Saturday, with 3.6 million cars on both days.
Traffic information supplier Inrix warned that some journeys will take almost four times longer than normal as people try to make the most of the last long weekend before the festive period.
The most delayed route is expected to be the M5 from Junction four to Junction one in the West Midlands between 1pm and 6pm on Friday, when journeys with a typical travel time of 21 minutes could take an extra hour.
On Saturday the M1 is predicted to be badly affected from Junction 22 to Junction 25 in the East Midlands, with journey times increasing from a typical 16 minutes to 62 minutes.
Other stretches of road where jams are anticipated include:
– The M20 from Junction nine to Junction three in the South East between 7.30am and 9.30am on Friday
– The M6 from Junction 28 to Junction 32 in the North West between 12pm and 3pm on Friday
– The M5 from Junction 22 to Junction 20 in the South West between 2pm and 4.30pm on Saturday
Inrix data scientist Josh Kidd advised motorists to set off as early or as late in the day as possible to avoid the worst of the traffic, except on Friday when they should aim to travel between 10am and 1pm to avoid clashing with commuters.
Monday is a public holiday in England, Wales and Northern Ireland, but not Scotland.