Boris Johnson's comments on the burka and the death of seven-year-old Joel Urhie in an arson attack are among the stories making the front pages of Wednesday's papers.
The Times carries an investigation which claims that 24% of staff working on the new high speed rail line are earning six-figure salaries, with the scale of pay "triggering alarm bells at the top of government".
The Daily Telegraph leads on the former foreign secretary's refusal to row back on comments he made about face veils, adding he was "speaking up for liberal values".
The Guardian also leads with the backlash against Mr Johnson's comments, with Theresa May saying the MP should apologise for the offence he caused.
The Daily Mirror calls Theresa May "spineless" for refusing to give Mr Johnson "the boot" over his burka comments.
The Metro reports on claims from the Labour party that Mr Johnson's comments were a "calculated attack" on Muslims.
And the i reports that Conservative leaders have "turned against" Mr Johnson.
Meanwhile, the Financial Times reports that Tesla CEO Elon Musk is planning to buy out the company for about £55 billion.
The Independent leads with a study which suggests nearly half a million children need treatment for attention deficit hyperactivity disorder.
The Sun leads with the death of Joel Urhie in an arson attack at the family home.
The Daily Mail runs with the same story, with both papers featuring a picture of Joel in a firefighter outfit.
The Daily Express reports that financier Peter Hargreaves is willing to bet his fortune that the EU would be forced to give the UK free trade in the event of a no-deal Brexit.
And the Daily Star reports that Britain's youngest lottery winner is happier than ever after spending her £2 million jackpot.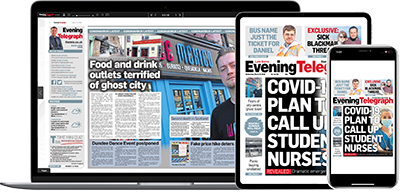 Help support quality local journalism … become a digital subscriber to the Evening Telegraph
Subscribe