The trial of England cricketer Ben Stokes features on the front of many Tuesday papers, alongside an extradition request for the Salisbury attack suspects and global warming fears.
The Times features a picture of Stokes, who is on trial at Bristol Crown Court, with the paper's main lead on Britain seeking two suspects who are believed to have carried out a nerve agent attack in Wiltshire.
The Daily Telegraph also carries a picture of Stokes, who denies a charge of affray, along with a story saying paedophiles who view obscene images should be given harsher sentences.
The Guardian says the UK is "poised" to submit an extradition request for two Russians suspected of the Novichok attack on Sergei and Yulia Skripal.
The Financial Times reports on the ongoing dispute between the United States and Iran.
The Metro writes that humanity faces "doomsday" with scientists warning temperature rises could set off an "uncontrollable chain of events".
The i leads on British tourists caught up in a pair of earthquakes in the Indonesian island of Lombok, near Bali.
The Independent reports on new research which suggests more police officers than ever are being "forced" to take a second job to supplement their wages.
The Daily Mirror carries a picture of Stokes arriving at court alongside a story which suggests that people who sleep more than eight hours a night have an increased risk of dying from a stroke or heart attack.
The Sun also reports the latest from the affray trial.
The Daily Express says there is a secret plot to remove Jeremy Corbyn as leader of the Labour party.
And the Daily Star leads on the claim that Stokes insulted two gay men.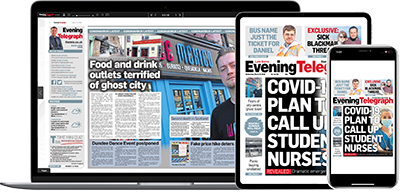 Help support quality local journalism … become a digital subscriber to the Evening Telegraph
Subscribe