Sinn Fein President Mary-Lou McDonald has said powersharing will not be restored until the DUP acknowledges rights issues.
DUP MLA Simon Hamilton said his party is ready to go back into government tomorrow, but added that Sinn Fein is holding the process back.
In response, Ms McDonald said there is no point in restoring a "Humpty Dumpty assembly which will fall again".
The exchange between Ms McDonald and Mr Hamilton came on Tuesday evening during the Leaders Debate at the West Belfast Festival.
She said: "This business of lets all go in and hope for the best and deal with these matters in parallel, all of the evidence demonstrates that that will simply not happen, there will be no recognition of Gaeilge (Irish language), that there will be no marriage equality and there will be no progress.
"Sinn Fein has been more than reasonable, we did arrive at an accommodation and the DUP couldn't bring it over the line.
"I don't think an independent interlocutor is the silver bullet to sort this out, there has to be political will."
Ms McDonald added: "When the institutions came down, the fact is, the public confidence in those institutions was at an all time low.
"Where there is a whiff of corruption or malpractice which was emanating from within the DUP, people said to us, yes we want the institutions back, we want real power sharing but that means the DUP has to sign up to it and we will not tolerate dirty corrupt politics.
"There is no point in us, Humpty Dumpty having shattered into a million pieces, put Humpty Dumpty back together, to sit him back up on the wall, only for him to fall again and shatter again."
The debate panel also included Ulster Unionist leader Robin Swann, SDLP leader Colum Eastwood, Alliance deputy leader Stephen Farry as well as Irish Health Minister Simon Harris representing Fine Gael and Lisa Chambers from Fianna Fail.
DUP leader Arlene Foster and Alliance leader Naomi Long had been due to appear, but instead sent their apologies.
The Northern Ireland Assembly has been in suspension since January 2017 when former deputy First Minister Martin McGuinness resigned.
A number of attempts at talks to resurrect Stormont have failed.
Ms McDonald was also challenged over whether unionists would be respected in a united Ireland.
Mr Hamilton asked where was the evidence that Unionists would be shown respect in a united Ireland, while Mr Swann told her that finishing a speech in February by saying "Tiocfaidh ar La, up the rebels" isolated Unionists.
Ms McDonald insisted those words should not offend anyone, saying: "I am an Irish republican, that's who I am, it's my firm belief our day will come.
"I don't accept in 2018 that they (those words) carry menace.
"If I hear the words 'no surrender', do I feel menace? Not really."
Ms McDonald went on to express disappointment that the Orange Order will not meet her.
"I hope they change their mind. I think it is so important, the simple act of acknowledging each other," she said.
"50,000 people walked in pride, that's the parading season now, they came from every walk of life. They say we want something different.
"We should wear our colours and identities with pride but there is so much else in between."
Earlier Mr Harris followed in Taoiseach Leo Varadkar's footsteps by visiting the headquarters of the Orange Order in east Belfast.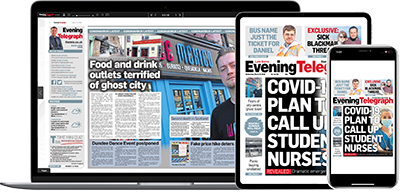 Help support quality local journalism … become a digital subscriber to the Evening Telegraph
Subscribe