Conservative Party chairman Brandon Lewis has called on Boris Johnson to apologise for comments he made about Muslim women wearing burkas.
The call followed a hail of criticism for Mr Johnson's remarks, which were described as "offensive" by Foreign Office minister Alistair Burt and "bigotry" by former Tory chair Baroness Warsi.
Writing in the Daily Telegraph on Monday, the former foreign secretary described the burka as "ridiculous" and "weird" and said women wearing them looked like letter-boxes or bank robbers.
While agreeing with Mr Johnson that the burka should not be banned, Mr Burt told BBC Radio 4's Today programme: "I would never have made such a comment, I think there is a degree of offence in that, absolutely right."
And Lady Warsi accused Mr Johnson of adopting the "dog whistle" tactics of former Donald Trump aide Steve Bannon in the hope of attracting support from right-wing Tories for an eventual leadership bid.
Repeating her call for an independent inquiry into Islamophobia in the Conservative Party, Lady Warsi told Channel 4 News: "Muslim women should not be a useful political battleground for Old Etonians.
"It is crass and it must stop, and it must be condemned by the leadership right from the Prime Minister down."
In a message on Twitter, Mr Lewis said: "I agree with Alistair Burt. I have asked Boris Johnson to apologise."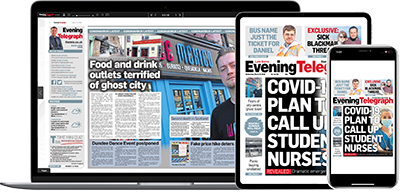 Help support quality local journalism … become a digital subscriber to the Evening Telegraph
Subscribe