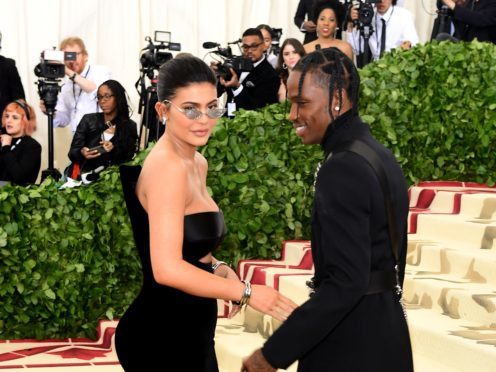 Kylie Jenner has said her partner Travis Scott is not a fan of the amount of attention that comes with being in a relationship with one of the world's most famous reality TV stars.
The Keeping Up With The Kardashians star and make-up mogul, 20, and the 26-year-old rapper have been in a relationship for just over a year, and welcomed their first child together – daughter Stormi – in February.
Jenner told GQ Magazine, when asked how Scott is "adapting" to being with her: "I don't think he's really cool with it, but he deals with it, because we love each other and we have a family.
"For sure, I know he doesn't like the attention. That's why we just go the extra mile to keep our relationship super private, or like, if he has events or something, I won't come.
"Because I want him to do his own thing. I want him to be him. I don't want it to be Kylie and Trav. If people don't ever see us together, that's okay with me, because we just do our thing."
Jenner, who appears in her first ever joint photoshoot with her partner for the men's magazine, also addressed the rumours of a "Kardashian Curse", which some believe affects the men who embark on romances with the members of the Kardashian-Jenner family.
Jenner, the half-sister of Kim Kardashian West and the daughter of Caitlyn Jenner and Kris Jenner, said that those who appeared to have struggled "come and can't handle it", referring to the family's level of celebrity.
She added that "it's not just men – it's friends, it's people who come and just don't know how to handle it.
"It's the negative. There's a lot of people who love us, but there's also a huge handful of people who don't like us."
Scott – real name Jacques Webster – and Jenner, who was this week named by Forbes as the world's third highest-earning celebrity of the past 12 months, also confirmed their relationship started at the Coachella music festival in April last year.
Jenner said: "Coachella was one of the stops on his tour. So he said, 'I'm going back on tour – what do we want to do about this?' Because we obviously liked each other.
"And I was like, 'I guess I'm going with you.'"
Jenner said she and Scott enjoyed the privacy at the start of their relationship, when she accompanied him on tour, adding: "We had a lot of downtime. It was organic. And we would just go to these random cities. We got to not be who we really were.
"Like, if we were in LA, I feel like it would've been way different. Everything happened for a reason. We weren't going out as 'Kylie and Trav.'
"We would just be in Cleveland, walking the street for hours. We would go on walks, and no one would bother us."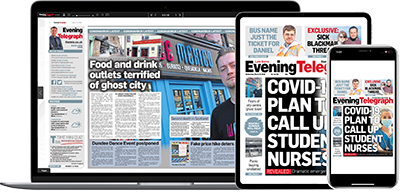 Help support quality local journalism … become a digital subscriber to the Evening Telegraph
For as little as £5.99 a month you can access all of our content, including Premium articles.
Subscribe