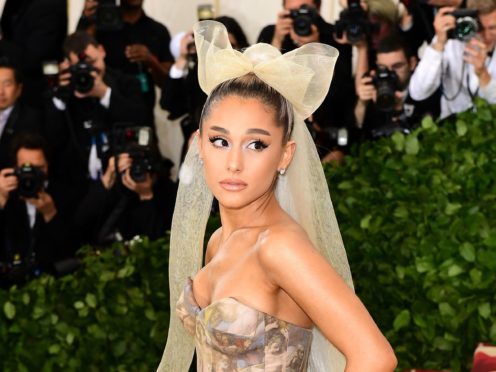 Ariana Grande has released the latest single from her highly anticipated forthcoming album, Sweetener.
Grande tweeted to say that the track, titled God Is A Woman, is now available, having previously said it explores "sexual female empowerment & how women are literally everything & the universe is inside of us tbh".
The song features the lyrics: "When all is said and done, you'll believe God is a woman."
Artwork for the track shows Grande, 25, posing topless with paint covering her torso.
God Is A Woman is the third single from Sweetener, after No Tears Left To Cry and The Light Is Coming.
Shortly before announcing the single's release, the One Last Time singer told fans: "Jus want u to know how much i love n appreciate every one of u. thank u for the love u show me n joy u bring. i'll never be able to fully express my gratitude and you'll truly never know how much u actually mean to me. i cherish nights like this sm."
On Wednesday, Grande, who is engaged to Saturday Night Live comedian Pete Davidson, revealed that she suffered "wild dizzy spells" and felt "upside down" for months in the wake of the Manchester Arena bombing.
The pop star had just finished performing on May 22 2017 when a suicide bomber detonated an explosive device, killing 22 people.
She told Elle magazine: "When I got home from tour, I had really wild dizzy spells, this feeling like I couldn't breathe.
"I would be in a good mood, fine and happy, and they would hit me out of nowhere. I've always had anxiety, but it had never been physical before.
"There were a couple of months straight where I felt so upside down."
Sweetener, Grande's fourth studio album and the first since 2016's Dangerous Woman, is due out on August 17.