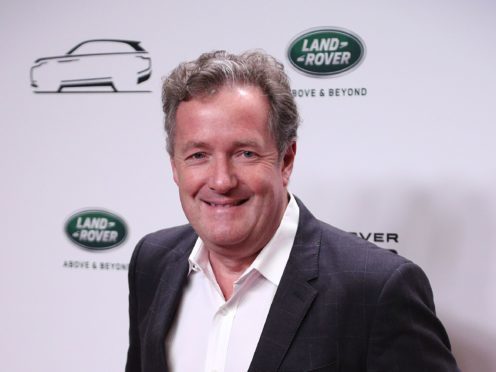 Good Morning Britain presenter Piers Morgan introduced dumped contestants from Love Island by saying "I am two feet away from three of the dimmest people in Britain".
He and co-host Susanna Reid were interviewing Kendall Rae Wright, Charlie Frederick and Hayley Hughes on the ITV breakfast show.
Morgan, who has previously voiced his dislike of the ITV2 reality series, described those who take part as "creatures" and "inmates".
The three former islanders refuted his interpretation of the programme's premise, which he described as "Put the dimmest people in Britain in one lair and you all have sex with each other".
Charlie defended his fellow contestants by saying a nuclear engineer, a solicitor and a doctor were taking part this year.
Morgan revealed during the conversation that his oldest son, Spencer, socialises with Charlie and to his "horror" is also a fan of Love Island.
The 53-year-old presenter mocked Hayley's knowledge of geography after clips of her time in the villa showed her claiming Essex was a continent and saying she did not know the difference between a county and a country.
As Morgan took her to task about her remarks, Hayley said she "wasn't the brightest tool in the box in geography".
Reid came to the reality TV star's defence by saying that was not the point of the show.
Hayley maintained the show's purpose was "to find love – you don't do in to sit a politics exams!"
She also said during her time on Love Island that she did not know what Brexit was.
Morgan's attempt to put Hayley on the spot backfired after he asked the model if she knew Greek philosopher Pythagoras's theorem to the nearest five decimal places.
When pressed by Reid if he knew the answer himself, Morgan mistakenly attempted to list the first five digits of the mathematical constant Pi.
Pythagorean theorem is actually a fundamental relation in geometry among the three sides of a right-angled triangle. It states that the square of the hypotenuse (the side opposite the right angle) is equal to the sum of the squares of the other two sides.
Morgan shouted in disbelief when he was called out on his error and admitted to his interviewees that he had been "mugged off".
Reid added that he had "showed himself up" on live television.
The former newspaper editor ended the interview by saying he still did not understand the point of Love Island but wished the three former contestants well in their future careers.