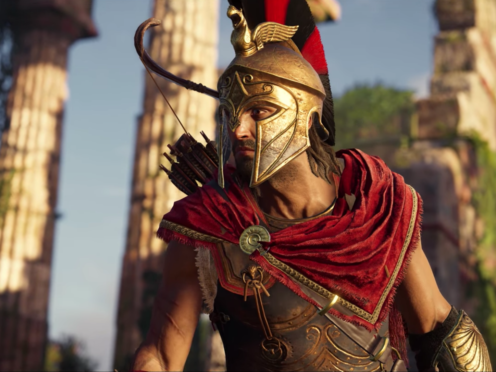 The next Assassin's Creed will give players the chance to choose their playable character for the first time as they enter the world of ancient Greece.
The first gameplay footage of the upcoming stealth adventure game was debuted during Ubisoft's showcase event ahead of E3.
The developer also offered the first insight into the game's setting and premise, with players taking on the role of a descendant of Spartan king Leonidas, and the special abilities and powers that brings.
As the gameplay trailer also shows, choices and decisions are to become a larger part of Assassin's Creed, and romantic relationships between characters are also being introduced – broadening the interactions between characters.
Another game to get plenty of attention during the event was pirate epic Skull And Bones.
The mechanics of the in-game piracy were shown off, with Ubisoft demonstrating how players will hunt merchant ships and use a range of tactics to get their hands on loot before making an escape.
It also included a glimpse at how players can call in other pirates to help them evade capture before the natural order of "every ship for itself" kicks in again.
There was also a closer look at a game announced during Sunday's Xbox event – The Division 2.
As well as getting a look at gameplay, it was also revealed that eight-player raids are being introduced to the sequel as a new game mode.
Battle game For Honor also showed off its upcoming expansion – Marching Fire – which takes place during the Chinese civil war.
In addition, a new four-on-four multiplayer mode called Breach is being added to the game in the update, which will launch in October.
The showcase was also the subject of a couple of celebrity cameos, as actor Elijah Wood appeared on stage to talk about psychological thriller Transference, which his studio SpectreVision is involved in.
Fellow actor Joseph Gordon-Levitt also made an appearance during the segment on Beyond Good And Evil 2, as his online collaborative production company HitRecord is working with Ubisoft to help bring original art, music and other content to the world of the game.
Upcoming space adventure Starlink: Battle For Atlas was also the subject of one final cool moment during the event, as a special in-game cameo was revealed – exclusive to those who buy the Nintendo Switch version of the game.
Nintendo icon Fox McCloud is not only a special guest in the game, special missions linked to him will also be available.