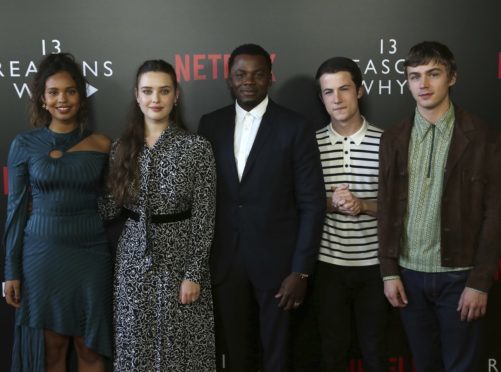 The creator of 13 Reasons Why has defended the show's graphic male rape scene and said producers had a "responsibility" to deal with the issue.
Season two of the Netflix series contains an episode where one student is attacked by three others before being assaulted with a mop handle.
The disturbing scene sparked a backlash from fans, who claimed it was too graphic.
But the show's creator Brian Yorkey has defended the episode, saying writers had a "responsibility" to explore the issue of male sexual assault.
Speaking at a Netflix panel in Los Angeles, he described the process of how the storyline came about, explaining a writer brought in a news report of a student athlete sexually assaulting a weaker classmate with a pool cue.
Though the rest of the team initially thought the incident was too "sensational", Yorkey said when they researched the subject they found "dozens" of similar cases over the last five years.
He said: "And that is just the instances that were reported. We know that sexual assault is hugely under-reported, sexual assault with male victims is exponentially more under-reported than even sexual assault in general.
"And as a show that had already said we are going to tell the stories of sexual assault victims and survivors, and we're going to tell them in a way that is unflinching and honest, we said, wow, not only does this seem a credible story to be told but in a way we felt there was an imperative to tell it. Because no-one was telling it."
Yorkey then quoted statistics claiming one in six men will become victims of sexual assault, adding: "That was a story that wasn't being told, it was a story that is happening in high schools today and we felt we not only had the opportunity but the responsibility to tell it."
Also speaking at the panel was Australian actress Katherine Langford, who plays the character of Hannah Baker.
Baker's suicide is the trigger for the entire series, but it had previously been hinted she would not be returning for a possible third season and Langford posted on Instagram to say goodbye to the character.
When asked about the character, Langford, 22, said: "When we finished season two, it really felt like we were saying goodbye to Hannah. And I think overall it felt like time. I think 13 Reasons Why will always be a special part of my life, and I mean that sincerely.
"Despite the fact she won't be in season three, if the show gets picked up for a season three, I know for myself I will always carry her story with me and the incredible story I've had and able to share with this cast, the creatives and these fans."