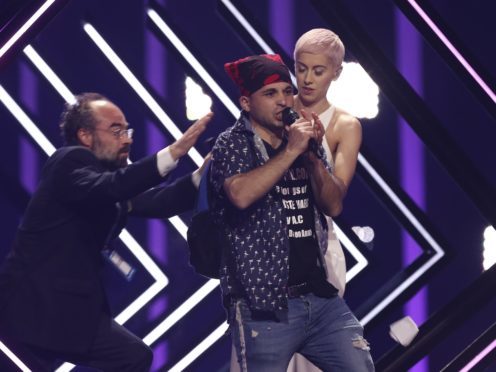 Singer SuRie has said she has some bruises on her hands after a man interrupted her and snatched the microphone while on stage performing at the Eurovision Song Contest.
However, she has said she did not feel scared during the incident, because it happened so quickly.
SuRie told ITV's This Morning, when asked if she was hurt: "There's a couple of bruises from where I was holding the mic. But I'm OK."
She said she was also hurt on her shoulder from where the man barged her as she sang her song Storm.
SuRie said: "There wasn't any time to feel fear. He was suddenly there, security were on him as quick as he was on me, he got the mic for a few seconds, that was out of my hands, but the song was still going.
"The backing vocalists were still singing, the crowd was still chanting, so I just turned upstage for a moment but I was still clapping and cheering with the crowd, I just didn't have the mic.
"I turned back and saw the mic on the floor, and I thought, 'well that's mine', I'll finish this song'."
Following the incident on Saturday, Eurovision's operator said it was investigating how the protester managed to rush to the stage and that he was being questioned by police in Lisbon, Portugal, where the event was held.
SuRie, 29, said that she was spurred on to complete her performance after the stage was invaded.
"You can see that in my eyes, for the last part of the song, you can see that determination to finish the song," she said.
"The lyrics took on a new meaning, 'Hold your head up, don't give up!'. The crowd, the surge from them, that's my lasting memory of this."
She said she was "really proud of that performance", and so chose not to take to the stage again.
SuRie also said she did not want "sympathy votes" from the public.
The singer came 24th out of 26 entries during the annual contest, which was won by Israel.
The BBC and the European Broadcasting Union (EBU) have been contacted for comment.