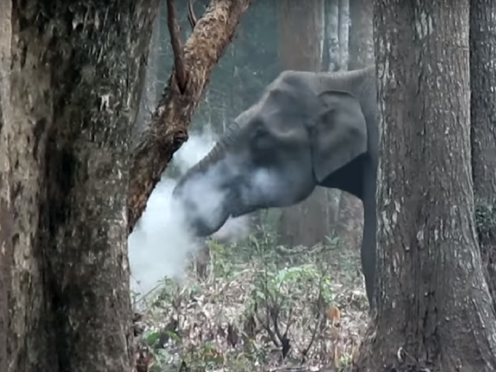 Here's something you never thought you would see: A wild Asian elephant on a smoking break in the woods.
OK, it may be not a smoking break, but the animal was caught exhibiting "unusual behaviour" when she was seen ingesting charcoal and blowing out the ashes.
The incredible footage was captured by Vinay Kumar, an assistant director at Wildlife Conservation Society-India.
The conservation team had set up cameras throughout Nagarahole National Park in Karnataka, south-west India, as part of a long-term study into tiger and prey populations.
As Kumar and his team set out to find what the cameras had spotted along the trail, they came face to face with the incredible sight.
Kumar said: "We had just entered a partially burnt patch of the moist deciduous forests, when we suddenly came face to face with a female elephant standing calmly on the side of the road.
"This was not an unusual sighting, but what we saw her doing was something that I had never witnessed before, and it has probably not been commonly captured on film earlier either.
"As cameras clicked, I switched on to the video mode and filmed what would be an amazing sight to behold, and a behaviour that has had experts trying to decipher the exact nature of the action.
"What we saw that day almost appeared as though the elephant was smoking – she would draw up a trunk full of ash close to her mouth and blow it out in a puff of smoke!"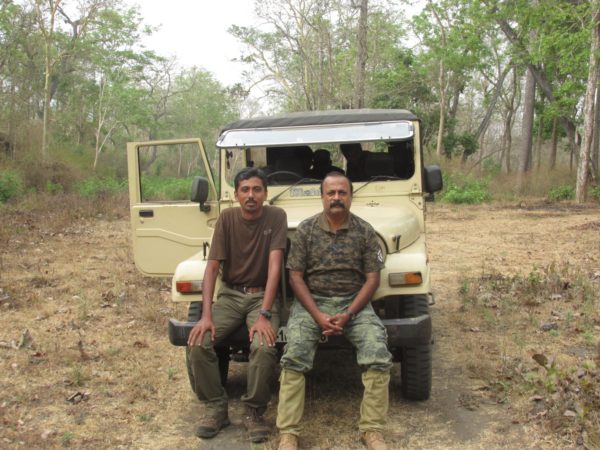 Kumar asked his colleague Dr Varun R Goswami, an elephant biologist, about this behaviour.
He concluded that the elephant was eating wood charcoal left after a fire, and had blown away the ashes through her trunk.
Kumar added: "Charcoal has well-recognised toxin-binding properties, and although it may not have much nutritional content, wild animals may be attracted to it for this medicinal value."
It is also a laxative, according to his account on the WCS-India website.
"This was a unique experience for me, and I am excited to share it with all of you," he said.