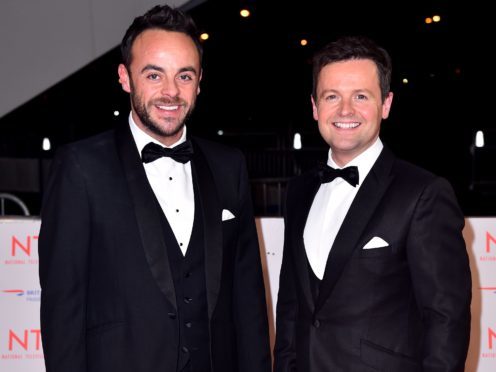 Ant and Dec have admitted they still fear their surprises will fail as they prepare to celebrate the 100th episode of Saturday Night Takeaway.
The duo, Anthony McPartlin and Declan Donnelly, have been hosting the popular ITV variety show since 2002 and their 100th instalment airs on Saturday night.
Segments where they surprise members of the audience have become some of the most talked about moments of the programme, but Ant said it is "always scary".
"They're great when they come off but you've got that nerve-wracking element of, it could all go wrong and we could have our cover blown any time," he said.
Despite their experience, live television can always throw up unexpected issues.
Ant said: "Last series, Scarlett Moffatt knocked on a house, live, and we knew the people would be watching the show because they are fans.
"But they were watching it on catch-up so they didn't go outside, Scarlett didn't get to go on site, the dog was barking, the door was locked.
"It all got a little bit uneasy for a while. The fact they weren't watching us live was a bit of a problem."
Dec added: "We always surprise people live on the show, sometimes in their living rooms, and sometimes you get a better reaction than other times.
"Sometimes if you lip read you can see that they have been quite surprised.
"We have had to apologise a few times because people have had such a shock, they didn't realise what they were saying. That's always quite a cringe live moment."
Dec said his scariest moments across the 15 series include abseiling down the building and a motorbike stunt in which he broke his arm.
"I don't really like the scary stuff but they always manage to persuade me to give in and do it. Ant's much better at those ones than me!" he said.
Ant said: "I'm not bothered so every time they give us a heights one I'm like, 'Yes!'"
The duo ranked the time they appeared undercover on Jeremy Kyle's programme as one of their most tense pranks.
"That was definitely the most nerve-wracking," said Dec.
"I was a guy who had had so much plastic surgery that he looked like his own cat.
"I was so scared of going on there. We did it in the States, on his American show, so I had to be American as well and get the accent right. That's the most nervous I've ever been. Just being grilled by Jeremy Kyle is nerve-wracking anyway! I have sympathy for his real guests now."
He added: "We'd spent loads of money on it, and it was our first one that we shot since going back after four years off, so that was an added pressure. If I'd walked out there and he'd just gone, 'Dec, is that you?'… I just didn't want to make a mess of it. You put pressure on yourself."
Ant & Dec's Saturday Night Takeaway airs on ITV on March 3.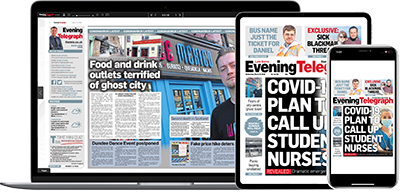 Help support quality local journalism … become a digital subscriber to the Evening Telegraph
Subscribe