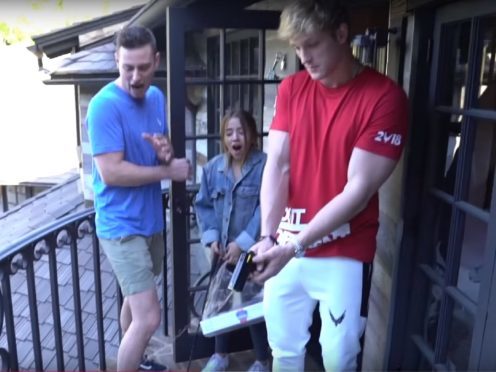 YouTube has temporarily suspended advertising on Logan Paul's vlogging channel following his comeback on the website.
The 22-year-old recently returned to the platform after taking a break following the criticism he received for posting a video showing the body of a suicide victim.
But after further controversial videos, YouTube has chosen to act citing a "pattern of behaviour".
"In response to Logan Paul's recent pattern of behaviour," the platform tweeted on Friday, "we've temporarily suspended ads on his channels."
In a video uploaded on Monday, he tasered two dead rats and removed a live fish from water and "performed CPR" on it.
YouTube told the Press Association the decision had been made to suspend ads on all of his channels after "careful consideration".
A spokeswoman said: "This is not a decision we made lightly, however, we believe he has exhibited a pattern of behaviour in his videos that makes his channel not only unsuitable for advertisers, but also potentially damaging to the broader creator community."
After apologising for showing the body of a suicide victim in a video posted on December 31, he took a three-week break from uploading daily before returning with a video highlighting mental health issues and speaking to a suicide survivor.
Following that video, California-based Paul returned to his usual style, posting daily videos of him pranking the public, skydiving, and confronting a stranger who had entered his home.
It is unclear how much YouTube's decision to suspend his ad revenue will affect Paul's earnings, as he has a lucrative merchandise line that he promotes multiple times per video to his 63 million subscribers.
According to the website Social Blade, which estimates influencers' earnings from their online statistics, Paul may have earned anything from £28,000 to £450,000 from ad revenue on YouTube in the last month alone, despite taking a break.
After he posted a video showing a suicide victim's body in Japan's Aokigahara Forest, YouTube put projects with him "on hold" and removed him from Google Prederred, its programme for advertisers allowing them to place ads on the site's most popular clips.