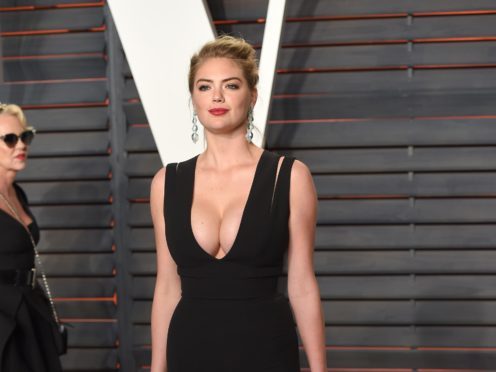 Model Kate Upton has alleged that she was sexually harassed by Guess co-founder Paul Marciano while working for the brand at the start of her career at the age of 18.
The American star, now 25, told Time magazine she considered ending her modelling career and that the alleged misconduct "took a huge toll" on her confidence and self-worth.
Marciano has denied Upton's claims, saying in a statement to the publication that they are "absolutely false" and "preposterous".
Upton first spoke of the allegations in response to the #MeToo movement last week when she tweeted: "It's disappointing that such an iconic women's brand @GUESS is still empowering Paul Marciano as their creative director #metoo."
Sharing further detail about her alleged experience, Upton said she was touched by Marciano in a "dominating and aggressive way" in July 2010, on her first day of shooting a Guess lingerie campaign.
She alleged that he "forcibly grabbed" her breasts and kissed her, and that he continued to touch her throughout the shoot before he "insisted" that he walk her to her hotel room, which she said she "immediately declined".
She said the shoot's photographer, Yu Tsai, stepped in and offered to take her.
Upton said she and Tsai hatched a plan for future Guess shoots, where she would text him ahead of time so she would not be in a room alone with Marciano.
She said Marciano began to text her more frequently as she continued to work for Guess, and that it made her feel she "wouldn't be booked again" for a job if she cut off communication with him.
"All the language he used was extremely dominant and possessive," Upton alleged.
"At one point, to avoid Paul coming to set, I told him my boyfriend was going to be there. He was absolutely furious at that."
She claimed his behaviour continued after Tsai was "fired from the next shoot" later in 2010, and that she stopped working for Guess in May 2011.
Upton, who has since gone on to carve out a career as a Sports Illustrated star and an actress, said: "It took a huge toll on my confidence and self-worth. I wanted to quit modelling.
"I constantly blamed myself after it happened: What am I doing to invite someone to treat me like that or grab me like that?"
She said she "started despising" her own body.
In a statement to Time, Marciano said: "I have never been alone with Kate Upton.
"I have never touched her inappropriately. Nor would I ever refer to a Guess model in such a derogatory manner."
He said he fully supports the #MeToo movement, which came about after a number of women shared allegations of sexual harassment at the hands of movie mogul Harvey Weinstein and others in the film industry.
"At the same time, I will not allow others to defame me and tarnish my reputation," Marciano added.
"I have pledged to Guess and its board of directors my full support and co-operation with a fair and impartial investigation."
A representative for Guess has been contacted by the Press Association.