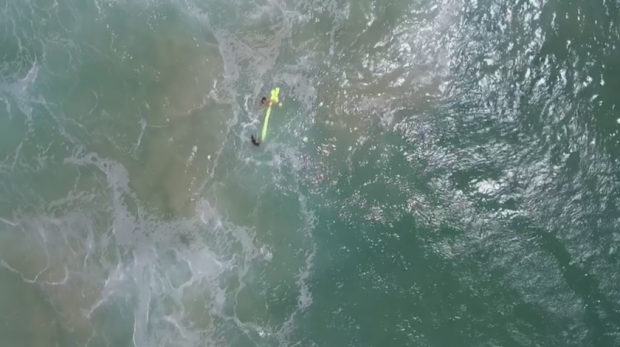 A drone has assisted in the rescue of swimmers at sea for the first time ever.
On Thursday morning, a member of the public reported seeing two swimmers struggling in strong waves to lifeguards at Lennox Head, New South Wales, Australia.
Lifeguard supervisor Jai Sheridan was piloting a Little Ripper Lifesaver drone at the time and used the drone to locate the pair and drop a life-saving flotation device to them.
"The Little Ripper UAV certainly proved itself today," said Sheridan. "it is an amazingly efficient piece of lifesaving equipment and a delight to fly.
"I was able to launch it, fly it to the location, and drop the pod all in about one to two minutes. On a normal day that would have taken our lifeguards a few minutes longer to reach the members of the public."
A video recorded by the drone and posted to the Surf Life Saving NSW Facebook page shows the remarkable rescue.
The swimmers used the inflatable to help them to shore, where lifeguards has raced to meet them.
Surf Life Saving NSW said: "The pair were fortunately unharmed from their ordeal apart from showing signs of fatigue."