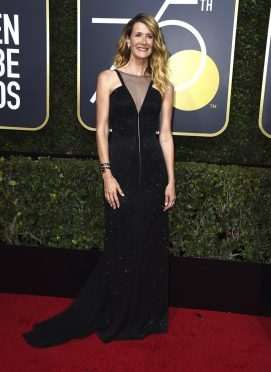 Big Little Lies has dominated the TV categories of the Golden Globes with wins for stars Nicole Kidman, Laura Dern and Alexander Skarsgard.
Kidman won the first award of the night for best actress in a limited series for TV, for playing domestic violence victim Celeste Wright.
Dressed in black in solidarity with victims of sexual assault and harassment, she dedicated the award to her daughters and cast members – saying "wow, the power of women" – and her mother, who "was an advocate for the women's movement when I was growing up".
"My achievements are her achievements," she added.
She said: "This character that I played represents something that is the centre of our conversation right now – abuse.
"I do believe, and I hope, we can elicit change through the stories we tell and the way we tell them."
Alexander Skarsgard, who played her violent husband, won the best supporting actor in a series, limited series or TV movie prize.
"I am here tonight because I had the privilege of working with a group of extraordinarily talented women," he said, accepting the award.
He "especially" thanked Kidman, saying: "Nicole, I love you. Thank you for making this the greatest experience of my career."
Their co-star Laura Dern won the award for supporting actress in a limited series.
Also dressed in black, she said: "Many of us were taught not to tattle, it was a culture of silencing and it was normalised.
"I urge all of us not only to support survivors and bystanders who are brave enough to tell their truth, but to promote restorative justice.
"May we also please protect and employ them, may we teach our children speaking out without the fear of retribution is our culture's new North Star."
There were also big wins for other shows with women at the centre – with The Handmaid's Tale taking the best drama TV series gong and its star Elisabeth Moss scoring the best actress in a TV drama prize.
She dedicated it to the author of the book on which it is based, Margaret Atwood, saying: "This is for you and all the women who came before you and after you."
She read out a quote from Atwood, and added: "We no longer live in the gaps… we are the story in print and we are writing the story ourselves."
Host Seth Meyers referenced the ongoing harassment scandal that has rocked Hollywood as he opened the ceremony, saying: "Welcome ladies and remaining gentlemen."
He added: "It's 2018 and marijuana is finally allowed and sexual harassment finally isn't, it's going to be a good year."
Addressing the elephant that "isn't in the room", he continued: "Harvey Weinstein isn't here tonight because I've heard rumours he's crazy and difficult to work with, but don't worry, he will be back in 20 years when he becomes the first person booed during the In Memoriam."
Sam Rockwell won the second prize of the night for best supporting actor in a movie for Three Billboards Outside Ebbing, Missouri, while Rachel Brosnahan won the best actress in a TV comedy prize for The Marvellous Mrs Maisel and Sterling K Brown won best actor in a TV drama series for his role in This Is Us.
James Franco won the best actor in a musical or comedy movie prize for The Disaster Artist, the film about the 2003 movie The Room which was dubbed "the best worst movie ever made".
Accepting the prize, Franco brought to the stage Tommy Wiseau, who wrote, directed and produced the original, but he had to usher him away from the microphone when he immediately tried to take over.
Franco also thanked his brother Dave, saying he had always wanted to have his own version of film-making brothers the Coens, but now realised he had "my own Franco brother".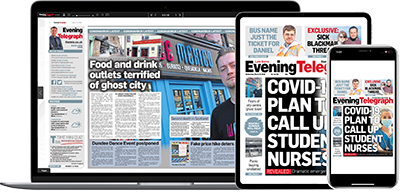 Help support quality local journalism … become a digital subscriber to the Evening Telegraph
Subscribe