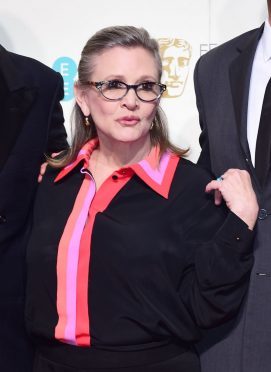 Laura Dern has described Carrie Fisher as "the deepest kind of inspiration" in a touching tribute a year after the Star Wars star's death.
The Jurassic Park actress was one of a number of stars sharing their thoughts about Fisher, who died in December last year.
Dern, who appeared with Fisher in Star Wars: The Last Jedi, shared pictures of Fisher as Princess Leia from the original sci-fi film and the latest instalment.
She wrote: "To a goddess, an icon, and a truth-teller. The deepest kind of inspiration. Thinking today of the privilege of knowing you."
Joe Manganiello posted a picture of himself "clowning around" with Fisher in 2012 and shared a memory of the time they spent together.
The Magic Mike actor wrote: "Right after this pic was taken Carrie glitter bombed me in the head with this huge fist full of glitter.
"She then told me we were going to live together and have our own reality show called Star-Blood (Star Wars + True Blood).
"In a closet somewhere I have that pair of jeans that still has glitter sparkles embedded in the material. She was the best. RIP Princess Leia."
Hollywood star William Shatner marked the anniversary of his friend's death by simply posting a picture of himself and Fisher on Twitter along with a crying emoji.
Frozen star Josh Gad tweeted: "We miss you. We love you. #CarrieFisher."
Fisher's daughter, Billie Lourd, also shared a moving tribute, in which she revealed that she had travelled to Norway to witness the Northern Lights in memory of her mother – an adventure she never had the opportunity to complete while Fisher was alive.
The 25-year-old actress posted a photo of an eerie green sky on Instagram, and joked that it was Fisher lifting up her "dark skirts and flash her dazzling privates across our unworthy irises".
She wrote: "My momby had an otherworldly obsession with the northern lights, but I never got to see them with her.
"We journeyed to northern Norway to see if we might 'see the heavens lift up her dark skirts and flash her dazzling privates across [our] unworthy irises'. And she did. I love you times infinity."
Earlier, Fisher's Star Wars co-star, Mark Hamill, mirrored a piece of dialogue in Star Wars: The Last Jedi – Fisher's final film in the sci-fi franchise – in an online message.
Hamill wrote on Instagram: "No one's ever really gone…"
He added the hashtags #AlwaysWithUs and #CarrieOnForever along with a collage of pictures of himself and Fisher.
In The Last Jedi, Hamill's character, Luke Skywalker, tells his sister Leia, played by Fisher, that "No-one's ever really gone" as they say goodbye.
Fisher died on December 27 last year aged 60, following a heart attack.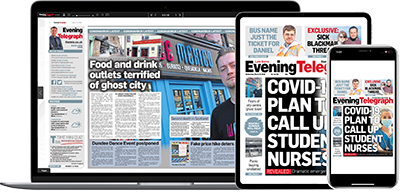 Help support quality local journalism … become a digital subscriber to the Evening Telegraph
Subscribe