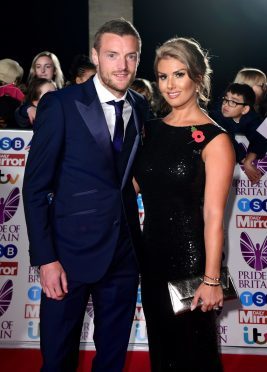 England footballer Jamie Vardy voted for his wife Rebekah to take on Wednesday night's I'm A Celebrity … Get Me Out Of Here! bushtucker trial.
The Leicester striker said he had voted five times for the mother of his children to be selected for the trial, which saw her take on this year's first stomach-churning eating challenge.
He posted on Twitter: "Bex's face when she finds out that I voted for her 5 times on the app to do the eating trial," alongside a screengrab of his wife looking shocked.
"Sorry babe just wanted everyone to see that you're fearless & you proved me right," he added.
Rebekah was first to take the plunge during the Worst Dates bushtucker trial, swallowing a whole bowl of fermented duck egg soup that was fed to her by jungle campmate Georgia Toffolo.
The pair won eight out of nine available stars after successfully munching their way through four grisly courses each, earning food for every one of their jungle-mates.
For their second course, Rebekah bravely chewed through a lamb's anus, which she said tasted like "chicken", before changing her review to "a baby's nappy". Toffolo only just managed to get through her second dish – a plate of fish "eyesters".
But the pair were temporarily defeated by course number three, a critter sandwich packed with cockroaches, mealworms, crickets and a whole huntsman spider.
They gagged, coughed, spluttered and swore with watering eyes as they ultimately failed to finish the disgusting dish in under 45 seconds, forfeiting a food star for their team.
For dessert, Rebekah got a shock as she was presented with a whole ostrich's foot. While she swore at the sight of it, she then said that it tasted "quite nice" and described it as "like chicken".
She then used her cheeky sense of humour to help Toffolo through her pudding challenge: a whole bull's penis.
As Toffolo struggled to get through the first bite, Rebekah joked: "This is easy, you've put worse than that in your mouth. I have."
They were embraced and congratulated by the delighted campers as they returned victorious and were later treated to a meal of quail and mangoes.
Rebekah and Vardy wed in 2016.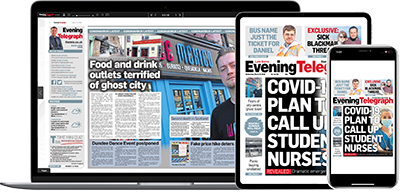 Help support quality local journalism … become a digital subscriber to the Evening Telegraph
For as little as £5.99 a month you can access all of our content, including Premium articles.
Subscribe