Shares in challenger bank Aldermore took off on Friday after the lender revealed that it has received a £1 billion-plus takeover approach from South Africa's FirstRand.
In a stock market update, Aldermore said that it has recently received an "indicative proposal" from the financial services firm, whose business interests range from investment and retail banking to asset management.
The offer of 313p per share is a 63% premium to Aldermore's float price and would value the firm at over £1 billion.
"Aldermore and FirstRand are in preliminary discussions about the details of the Possible Offer, which is subject to a number of standard conditions," the company said.
"The board of Aldermore has indicated to FirstRand that it is likely to recommend a firm offer at this level."
Shares surged on the news, rising 19% in midday trading to 304p.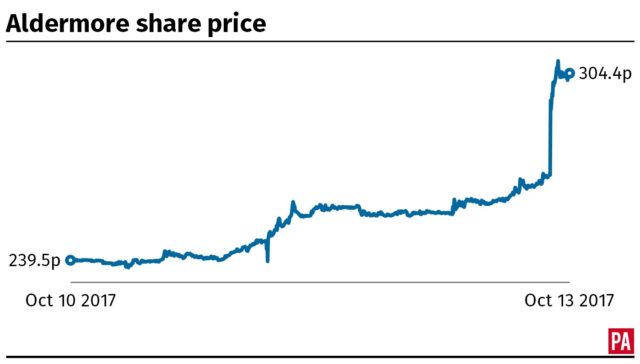 FirstRand now has until 5pm on November 10 to announce a firm intention to make an offer for Aldermore.
Earlier this year, Aldermore reported a 32% rise in half-year profits to £78 million and said it notched up £1.6 billion in new lending, taking its total to £8.1 billion.
The group – which lends to small and medium-sized businesses, home-owners and landlords – saw mortgage lending increase by 9% to £6.2 billion.
Aldermore added: "There can be no certainty that any firm offer will be made, or as to the terms on which any offer might be made. This announcement has been made without the consent of FirstRand and the board will keep shareholders updated as appropriate."
FirstRand said in a statement that it has been on the lookout for a "long-term deposit franchise" to fund its strategy to grow and diversify its UK revenues.
"The possible acquisition of Aldermore, with its unique operating model, market positioning and strength in deposit taking, would provide the ideal platform for FirstRand to fulfil this strategy on an accelerated basis," the group added.