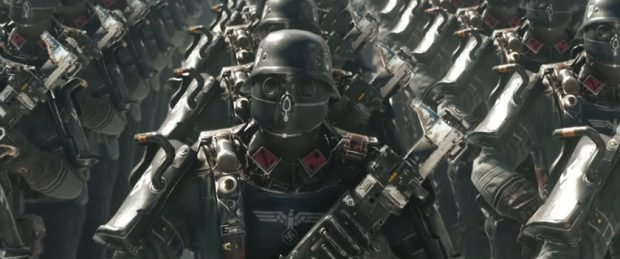 It looks like the hotly anticipated game Wolfenstein II: The New Colossus just got a bit more political.
The Bethesda Softworks game is set in Nazi-occupied America in 1961, in an alternate universe where the Nazis won the Second World War.
Ahead of its release later this month a new short trailer features slogans that appear to reference current events in America, where the far-right has been recently emboldened.
"Make America Nazi-Free Again" accompanies the trailer, and appears to be a very thinly veiled reference to Donald Trump's "Make America Great Again" slogan. It sits above images of masked Nazis marching through American streets.
"Not My America" features in the video, and has been a popular slogan with Mr Trump's critics.
Neo-Nazis and white supremacists have been prominent in the news this year in America, with violent clashes taking place in Charlottesville following a Unite The Right march that left one counter-protester dead.
While some comments on the lengthier official gameplay trailer condemn people likening the game to the current day, it appears Bethesda think it could be beneficial to the game's launch to do so. And it's certainly won them some fans.
A minority either disagreed with the game or the way it was being sold, with one person lambasting Bethesda for having "teamed with" anti-fascists.
Wolfenstein has been a game about fighting Nazis since its first ever release in the 1980s.
The game picks up where the 2014 release left off, with BJ Blazkowicz and the resistance trying to lead America towards its second revolution.
Wolfenstein has won a cult following for its OTT Nazi-killing action sequences, and the new release will be the eighth in the series.
It's released on October 27 for PC, PlayStation 4 and Xbox One, while a Nintendo Switch release will follow in 2018.