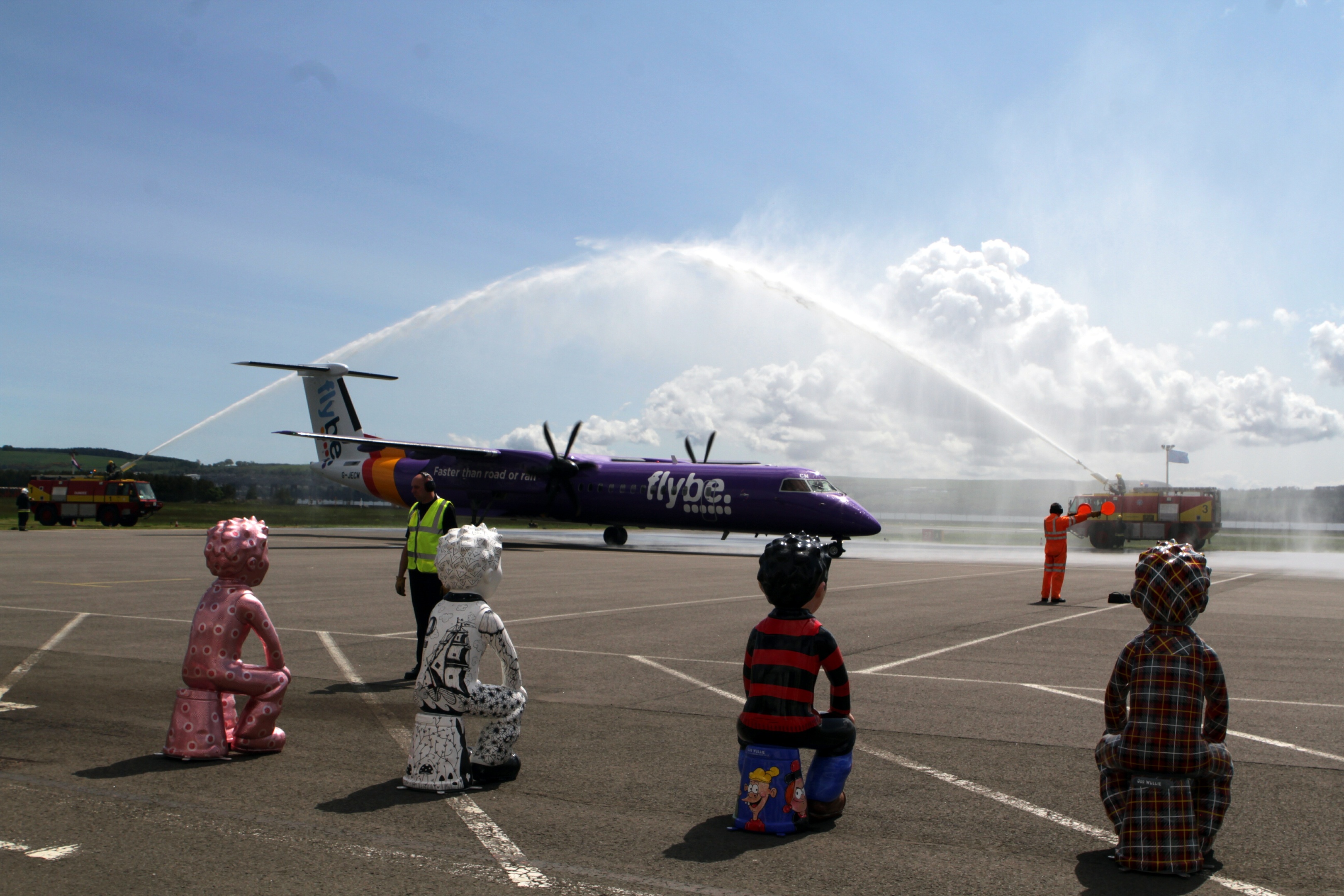 The first flight connecting Dundee to the rest of the world via Amsterdam has landed.
The plane from the Dutch capital arrived at the Riverside airport this afternoon — over an hour later than scheduled after delays at Schiphol.
That failed to dampen the spirts of the welcoming party, however, and the Flybe service was welcomed with a traditional water arc laid on by airport fire crews.
Inbound passengers on the maiden flight were presented with a selection of local products, including a Dundee cake, while those heading across to Holland later in the day were topped up with champagne.
Since it was announced, the route has proved popular with 12,000 people booking tickets in the first week they went on sale.
Among those flying to the continent today was 80-year-old May Souter, of Monifieth, who was joined by daughters Caroline Duncan, 54, and Lorraine Grant 57, as well as family friend Amanda Vaughan, 54.
Welcome to Dundee! @flybe @Schiphol #oorwullie #firstflight #Amsterdam pic.twitter.com/BHN63bvvKA

— Dundee Airport (@DNDAirport) May 23, 2016
Lorraine said: "We wanted to go somewhere special for my mum turning 80 in November.
"We were on a day trip to Glasgow and decided to search for cheap flights.
"It happened to be the day the Amsterdam flights were first on sale and we got one each.
"Mum always wanted to go there, and it meant no travelling to Glasgow or Edinburgh airport. She doesn't travel that well these days so it's a fine short flight too."
Caroline said: "We never realised it was going to be the first actual flight so the champagne and other refreshments are great. We're going for two nights, back on Wednesday."
May said it was a great treat and Amsterdam has always been on her holiday wishlist.
She added: "It's just lovely, absolutely super. We are going on a bus tour and canal boat, and a bit of sightseeing. It's definitely something we'll do again."
The event was attended by a host of dignitaries, including Scotland Office minister Andrew Dunlop and Lord Provost Bob Duncan.
Council leader Ken Guild said he was delighted the link had been established.
He explained: "We have been lobbying for a long time to make this happen.
"This is a very significant step in ensuring Dundee is an important connecting city.
"This will allow business travellers and holidaymakers to go to and from Dundee and Amsterdam, as well as connecting to flights all across the world."
Derrick Lang, manager of Dundee Airport, said: "This is the most exciting route added since I've worked in Dundee.
"The route is the biggest selling the airline has from a regional airport.
"It's also the fastest selling in Flybe's history, with 12,000 tickets booked in the first week."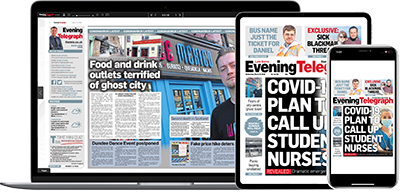 Help support quality local journalism … become a digital subscriber to the Evening Telegraph
Subscribe