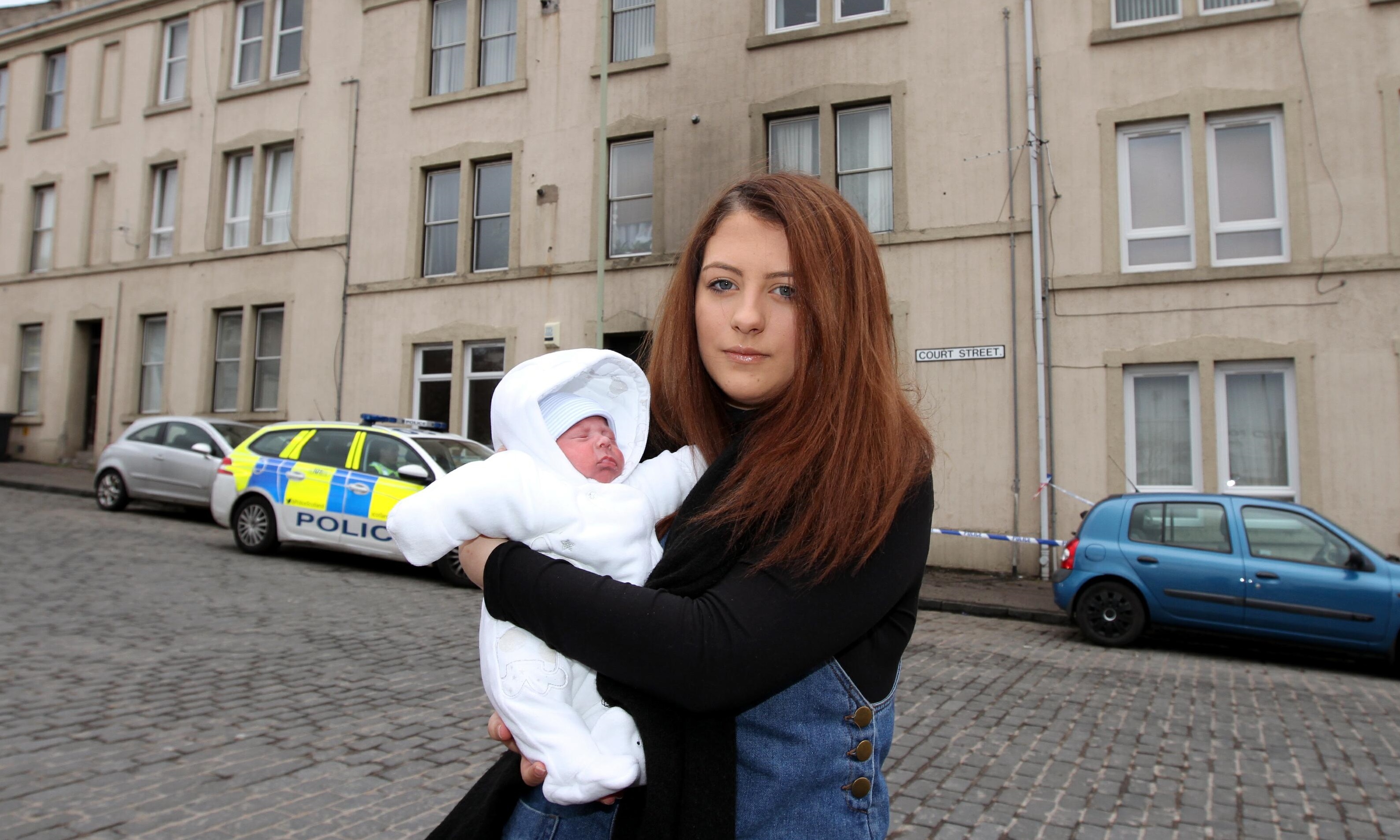 A new mum has spoken of her terrifying escape from a burning building while shielding her premature baby down her top.
A probe is under way after two blazes, which happened in the space of about three hours, were deliberately set at the same Dundee tenement.
Nine people had to be evacuated from flats in one of the Court Street fires, including three people who were escorted down ladders.
Another six people, including Megan Mackenzie with her baby son and her two sisters, had to flee the same incident, which happened around 4am on Tuesday.
Prior to that, one fire appliance had been called out to the same close at around 1.30am, with reports of a section of carpet and a wheelie bin on fire.
Megan, 19, was in her house — along with son Arthur Dawson and sisters, Angel Cattanach, seven, and Libby Mackenzie, nine — when the first fire started.
Megan said she had only just got home from hospital with Arthur last week and added: "I was petrified. I really thought we were all going to die. I didn't think any of us were going to get out of the building alive.
"He was born nine weeks early on March 12."
Megan said her two little sisters were spending time with her for the first time since Arthur arrived home.
She added: "I was first woken up just after 2am during the first fire incident.
"The fire brigade dealt with that quickly and we all went back to bed.
"However, I woke up a couple of hours later, just after 4am when my alarm went off.
"The flat was full of thick choking smoke. I was petrified and so scared that none of us would get out alive. My little sisters were screaming. They were terrified and I was so frightened for them and for Arthur because he's so small. I thought he might not be able to breath properly because the smoke was so thick and choking."
Megan said she put Arthur down her top to try to protect him and opened her kitchen window to alert crews.
Group manager Martin Tait, the lead fire officer in Dundee, said the two fires were being treated as deliberate. He added: "Deliberate fires are incredibly dangerous and everyone needs to understand that these incidents could have resulted in absolutely devastating consequences."
Police are looking to trace two men who were seen in the area at the time of the incident.
A statement from the force read: "Police Scotland is appealing for witnesses following two fires at a common close at an address in Court Street that happened sometime between 1.30am and 4.30am on Tuesday April 12.
"Officers are keen to trace two men aged about 20-years-old, of medium build who were seen in the area at the time. One of the men was wearing a red hooded top and had a dark-coloured beard and the other man was clean shaven and was wearing a grey hooded top.
"Anyone with information that could assist officers with their enquiries into the incidents should contact Police Scotland on 101. Alternatively information can be provided anonymously to Crimestoppers on 0800 555 111."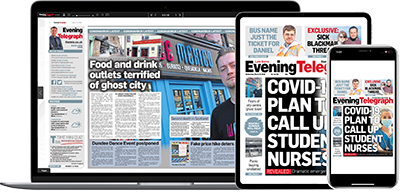 Help support quality local journalism … become a digital subscriber to the Evening Telegraph
Subscribe