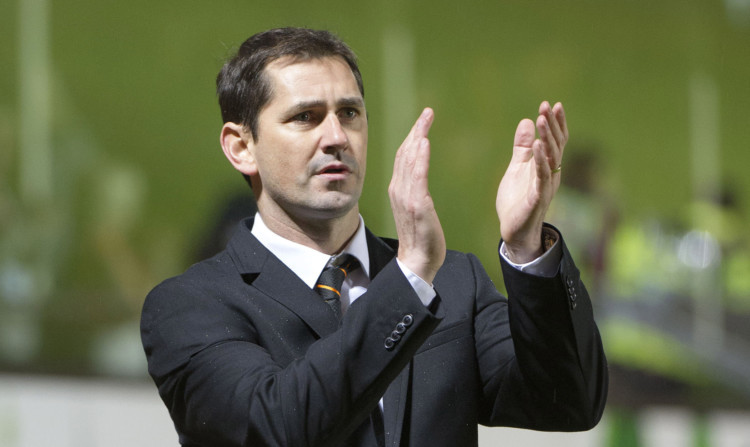 Former boss Jackie McNamara is confident his old players will get Dundee United back up the Premiership table soon.
McNamara was sacked by the Tangerines last month and has now embarked on a new career in England at York City.
But he still looks for United's results and remains firm in the belief they will recover from the poor start to the season that cost him his job.
"I've only got good thoughts about these boys and I want to see them do well," said Jackie.
"And I believe they will. Right now, like the players I have here in York, they are playing with a bit of fear.
"That comes from not winning games but they will start winning again and once they do they'll keep winning. I hope they do and I want to see them back up the table."
When it comes to relegation battles, Jackie has pressing business of his own.
Saturday saw his first home game in charge of York and his debut as a manager in the English leagues,
After defeats in the FA Cup and the Johnstone's Paint Trophy, this time he saw his Minstermen go down 2-1 to division leaders Plymouth Argyle, managed by fellow-Scot Derek Adams whose assistant is another ex-United gaffer, Craig Brewster.
The reversal leaves York just two points above the relegation places, one of which is occupied by Yeovil Town — the team managed by United legend Paul Sturrock.
Finishing the season in one of those spots would see York dropping out of the league set-up.
With plans to move to a new stadium in 2017 and a target of being a division higher by then, it's very much a case of out for the frying pan and into the fire for the former Scotland international.
And, given that overall his record in management remains good, the fact he decided to take on the club ranked 90th of 92 down south surprised a few.
He, though, both welcomes the pressure and viewed potential as opposed to current situation as the important factor in his decision to head to York.
"Obviously we have to keep the team in the league so there is pressure but for me there is always pressure because it comes from within.
"I want to do things properly whatever I'm doing and that's what I aim to do here.
"As for coming here, I think the time was right for me to leave Scottish football. After United, I had already decided that.
"I have to say when I was asked if I wanted to speak to York, the fact they were in League Two was an issue.
"But I came down and spoke to the chairman and I was hooked. It's a family-run club and they want to do things the right way.
"There's great potential and they are willing to invest in that.
"I think this is a club that can take off."
Although three defeats on the bounce mean it's a slow launch, Jackie believes the weekend defeat included encouraging signs.
"In the first half you saw that fear I talked about but in the second we played much better and almost came back to get a draw.
"I told the boys that after the game. You look at Plymouth and they are top of the league.
"We're near the bottom but there is not much between us when it comes to quality.
"We've a lot of work to do and there are things we can improve on but we'll work hard and get there."