World Rugby will this afternoon publish its review into the performance of referee Craig Joubert during Scotland's World Cup quarter-final defeat to Australia at Twickenham.
Joubert awarded the Wallabies an incorrect penalty with 43 seconds left which was kicked by Bernard Foley to complete a dramatic 35-34 victory for Australia and rob the Scots of a place in the last four.
"There seems to be some controversy around it and we are doing a full review of that," World Rugby chief executive Brett Gosper said.
"The match officials are assessed by a match assessor, by each team and Joel Jutge, the head of our match officials.
"We have not had that report back so I can't comment on the specifics of that situation at the moment.
"Hopefully some time today we will have a little more fact and will communicate that."
The reviews of a referee's performance are carried out after each match, not just where a controversial moment has occurred.
Joubert also provoked fury by sprinting from the pitch immediately after blowing the whistle as boos rang out at an incensed Twickenham.
"The referee has not explained to me why he did that. Craig is one of our top referees, a good man and he will have had his reasons," Gosper said.
"We don't know what was in his head. We are in the process of working that through."
Joubert had made a hugely unpopular call by penalising Scotland for accidental offside, a decision that was later proved to be incorrect.
Australia scrum-half Nick Phipps admitted after the match he had deliberately attempted to win the loose ball that then struck Scotland openside John Hardie, his intent clearing Hardie of accidental offside.
"I think everyone was trying to win the ball. We were all going for it," Phipps said.
Joubert's judgement and rapid departure from the field provoked a furious response from former players of all nationalities.
Scotland great Gavin Hastings said: "If I see referee Craig Joubert again, I am going to tell him how disgusted I am. It was disgraceful that he ran straight off the pitch at the end like that."
Also among the many outraged voices was former England scrum-half Matt Dawson, who said on Twitter: "Craig Joubert you are a disgrace and should never referee again!! How dare you sprint off the pitch after that decision!!!"
World Rugby responded to dismay over why the TMO was not consulted by stating that the technology can only be used for the act of scoring a try or an act of foul play.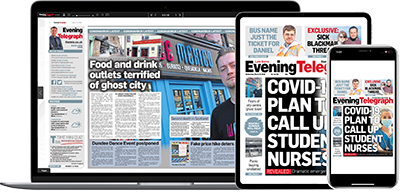 Help support quality local journalism … become a digital subscriber to the Evening Telegraph
For as little as £5.99 a month you can access all of our content, including Premium articles.
Subscribe