Police are investigating a mass brawl at a Dundee nightspot.
The incident, which is said to have involved up to 20 people, took place at Liquid nightclub.
A video clip of the fight — titled "Carnage on the DFloor" — shows a young man bent over with his shirt pulled over his head.
He is surrounded by around five people, several of whom appear to be dragging him down and hitting him with short sharp punches to the ribs and his face.
The video was filmed over the shoulder of one of the attackers.
Officers are now investigating the incident, which took place at the South Ward venue on Saturday night.
An 18-year-old student who captured the incident on camera told the Tele: "There were a lot of people involved.
"It went on for quite a while before the bouncers came and sorted it out.
"It seemed that most of them were targeting the same man.
"There did not look to be anybody trying to help him out.
"My friend and I were on the dance floor but got shoved back when the fight broke out.
"That was by far the worst incident that I have seen in Liquid."
Another Twitter user, who had apparently witnessed the incident, said around 20 people were involved.
The incident had gone on for around five minutes. He posted: "Still can't believe that brawl in Liquid last night, manic scenes."
One club-goer, who asked not to be named, said: "We'd just got in and there seemed to be loads of people gathered around the dance floor.
"We got a bit closer and there were about four or five guys attacking one other man.
"I've never seen anything like that in Liquid and I have been going there for years. It was really shocking.
"The bouncers came and broke the fight up."
No one from Liquid nightclub could be reached for comment.
A Police Scotland spokeswoman confirmed officers would be looking into the incident. She said: "We are aware of the matter."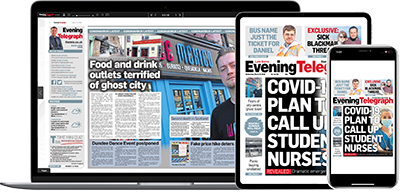 Help support quality local journalism … become a digital subscriber to the Evening Telegraph
Subscribe