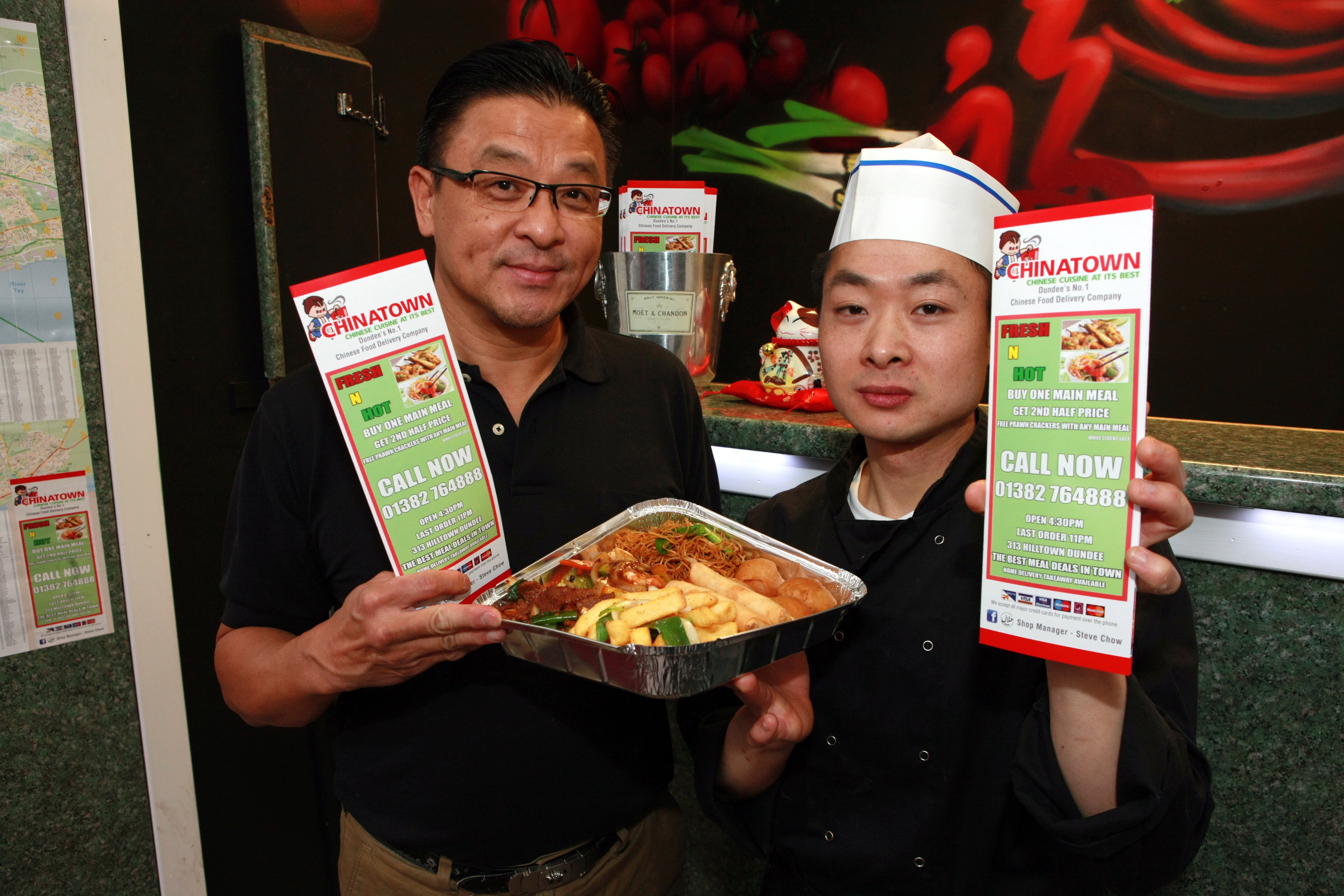 MUNCHY box mania hit Dundee after a local Chinese launched an oriental spin on the kebab shop favourite.
The Chinatown Chinese takeaway on the Hilltown decided to think outside the box after customers were offered the chance to select four items from the takeaway's main menu.
Their chosen dishes were served to them in one container, similar to the well-known kebab style munchy box.
Steve Chow, managing director of Chinatown, said he had no idea the idea would be so popular.
He said: "The idea came after some of my staff were talking about it and people on my Facebook were asking if anyone did a Chinese munchy box in Dundee.
"Someone then came in and asked for one and I did it for them. I had to go and get a pizza box from next door.
"I decided to go for it because it gives people a chance to try things out and I posted on Facebook saying that we would be doing them the next day.
"Then it was like an atomic bomb exploded.
"I had only had it on Facebook for three or four hours and it just went absolutely crazy.
"In the beginning I thought that we would maybe get five to 10 orders, and I would have been happy with that.
"It just went completely out of control."
Steve said that his phone didn't stop ringing for 10 hours on Saturday and that there was a queue of people down the street outside.
The munchy box was so popular that he couldn't answer the phone for most of the night — much to the disappointment of some would-be customers.
One disgruntled customer posted on the takeaway's Facebook page, saying "give up now, complete waste of time and money when no one can answer a phone".
Their post was accompanied by a screenshot from their phone that showed they had tried to call 100 times.
Other customers were happy with the boxes, with one commenting: "Five out of five for the munchy box. It was delicious!! Really hope you continue to do this."
Steve said that in 20 years of working in the food industry he hasn't seen anything like it.
He added: "I had 600 new friends that added me on Facebook and I couldn't keep up with all the messages and posts that were being sent asking about it.
"We had around 150 orders over the weekend and that means that my chefs had to cook at least 600 dishes.
"People can add extra portions for £2 which means that they had to cook more than that.
"Everyone was really supportive of what we were doing — some people were unhappy but we are learning from it."
Despite the rush over the weekend, Steve said he is determined to make it work.
He added: "We are working on it and trying to organise it better. In the future we will be able to do it much better for everyone."