A lorry driver accused of forcing a horse and rider off the road, injuring the animal, hit back today and insisted – I did nothing wrong.
And Fred Murray, who owns FB Haulage, Brechin said he had the video footage to prove it.
Mr Murray spoke out after Hilary Nicholson said her friend Leanne Kempton had been hacking her horse Tilly along Berryhill Road, near Fowlis when an HGV came along the road and didn't stop.
He recalled: "A horse and rider were coming towards me on the road.
"I slowed down, stopped and cut my engine.
"I thought that if I did that, as it was a very narrow road, it would give the rider the chance to turn around, walk away and find somewhere suitable and safe to wait until I then passed by."
Fred said he was surprised when the rider then continued to try to pass him by.
"I saw the horse stumble and then it seemed to land in the ditch.
"I immediately got out of my lorry and ran to help.
"I would never leave the scene and let her get on with it and the video footage shows that."
Fred's story is backed up by Colin Dickie, who was following in a lorry belonging to AM Philip of Forfar.
He said: "The video footage that shows the entire incident was filmed by the camera in my lorry."
Colin said that he also stopped and got out of his lorry to help.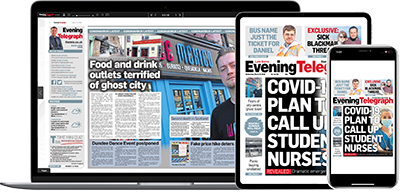 Help support quality local journalism … become a digital subscriber to the Evening Telegraph
For as little as £5.99 a month you can access all of our content, including Premium articles.
Subscribe