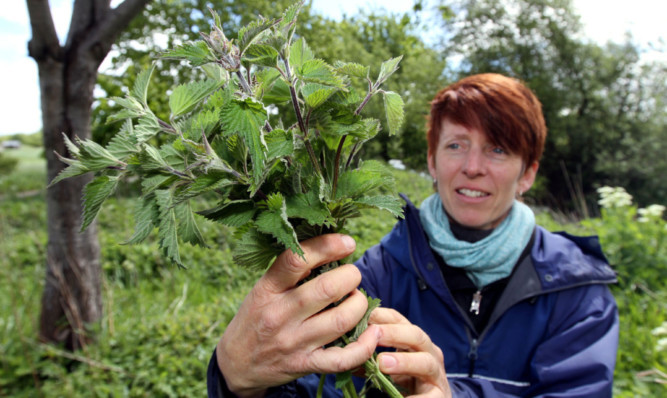 Nettles and dandelions are considered by most people as weeds to be avoided or killed with chemical sprays.
But one Dundee community group is using them, as well as a variety of other plants foraged from the city, to make soups, cakes and even pizza.
The Dighty Connect conservation group held a free event in Douglas Community Centre where they presented their creations.
The Tele joined the volunteers at the Dighty Burn to forage for edible plants.
Project co-ordinator Ann Lolley said: "We do a lot of conservation work along the Dighty, and a few years ago the volunteers started seeing blackberries and cherry plums there. They'd bring them back to the community centre and cook with them, and after that we'd also look for things you wouldn't necessarily notice, like nettles, dandelions and wild garlic.
"People loved the things we made from the ingredients, so we gathered recipes and have now published a wild food cookbook.
"These dishes are easy for anyone to make and the ingredients don't have to come from the Dighty. It's something anyone, anywhere, can get involved in."
Among the dishes included in the book are cheese and garlic scones, nettle soup, daisy pizza and sweet sorrel tart. In addition, dandelion and chocolate brownie, sweet cicely and lavender cupcakes and nettle pesto sushi were served at the free food event.
Jane Wilkinson, Ann's fellow project co-ordinator at Dighty Connect, said: "Foraging is nothing new. In the past that's how people found food and they actually used to eat a much wider variety of nutritious plants that we now dismiss as weeds.
"We've started off with really basic ingredients that most people recognise.
"It's important that you know what you're picking because some plants can be poisonous and having a wild flower book is a good idea.
"It's also important to be respectful of the environment.
"For example, don't take the whole plant out with the root, just take a few leaves and don't pick too much from one area. Obviously avoid areas where there's dog mess too."
David Drummond, 54, is one of the Douglas residents who joins the group on their foraging and conservation events.
He said: "Foraging is done seasonally and the next trip will probably be in September.
"I really like the food we make, my favourites are the cheese and garlic scones and I've also had dandelion pizza in the past.
"It's great to meet like-minded people. Ann and Jane know a lot about wild food and we've had some great recipes."
David's sister Moira Stewart came along to the food event with her husband John and said that she was inspired to make some of the dishes herself.
She added: "I've never done any foraging before, but I think it's a great idea. I'd like to have a go at making the scones."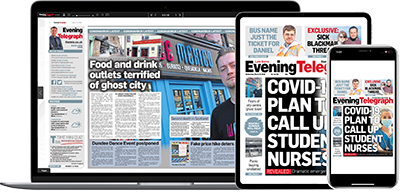 Help support quality local journalism … become a digital subscriber to the Evening Telegraph
Subscribe