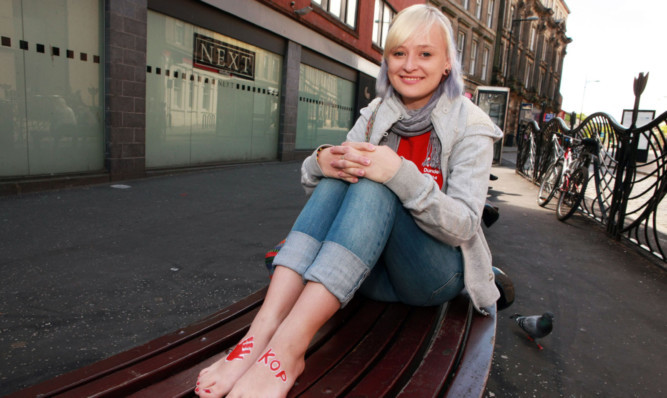 A university student has shed her shoes and is walking barefoot around Dundee to raise money for charity.
Tina Reuter has teamed up with the Kenyan Orphan Project (KOP) in attempt to give child poverty in Africa the boot by potentially going 50 days without wearing shoes.
The 22-year-old community learning and development student, originally from Germany, has not worn any footwear since last Tuesday.
Tina is a charity apprentice with KOP and was tasked with coming up with a challenge.
Although Scottish weather can be erratic, Tina said ditching her shoes has not been as bad as she expected.
She added: "There has been one really rainy day, which was gross but other than that it has been nice and sunny and warm but at night it can get a little bit chilly.
"My feet are quite sore already but I'm really excited to be taking on this challenge.
"For the first week I was still at university so it was a bit weird and people stared at me.
"Now I am finished with university and every day is a bit different going shopping and things like that."
For every 20 she will go barefoot for a day and to meet her 1,000 target she will need to spend 50 days without footwear.
But she has already run a bucket collection in the city centre, which raised just under 300 towards her total and is in the process of organising another one.
People can also pay their way directly onto Tina's feet, with 10 getting the person's name while a 25 donation will get a portrait of that person for a day.
Tina's time walking barefoot will depend on how long it takes to raise 1,000, and she added: "At the beginning of June I'm going to Paris, so that's going to be pretty interesting.
"I have collected a third of my goal so far mostly from my family and some of my friends, but I am trying to get the word out to other people so I can achieve my goal.
"People either react by saying that it is really cool and I tell them that they can do it with me, but most of them have jobs where they couldn't do it.
"The other people just think I am crazy so it is from one extreme to another. This is a great start-up to get going in the charity business where I want to be."
A number of life-threatening ailments are rampant in Africa but are avoidable by wearing appropriate footwear.
Thomas Muirhead, managing director of KOP, said: "Our charity apprentices are encouraged to go the extra mile with their fundraising and Tina is really doing us proud with her barefoot challenge."
He said money raised will go a long way to supporting people in Kenya.
People can support Tina's challenge by visiting charityapprentice.org/barefoot-tina.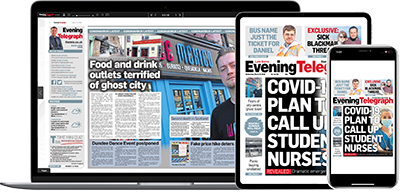 Help support quality local journalism … become a digital subscriber to the Evening Telegraph
Subscribe