A shocking video of bikers overtaking on blind corners and pulling wheelies on the wrong side of the road has been blasted.
The two-minute YouTube clip shows the group of motorcyclists filling up at the Esso petrol station on Birkhill's Main Street during Sunday afternoon, before speeding off at well over the speed limit and performing dangerous stunts.
The footage is taken from the dashboard of a car which is going at nearly 60mph the speed limit for the road.
Suddenly four motorbikes flash past, followed by a fifth 20 seconds later.
As they zoom past, one hooded biker on a white bike pulls a wheelie on the wrong side of the road, while another appears to overtake a car on a corner, narrowly missing an oncoming vehicle.
It is unknown who uploaded the video, but they posted it on the day of the incident, describing the footage as a "group of bikers speeding, driving dangerously and performing wheelies just past Birkhill".
Councillor Rob Murray labelled the actions of those in the clip as "outrageous".
He said: "Any kind of reckless driving whether it's a car or motorcycle or any other motor vehicle is something we don't want to see anywhere and even more so on the country roads around Birkhill.
"It's quite outrageous behaviour which puts not only their lives at risk, but also those of other road users. You could never condone this behaviour.
"The country roads are not racetracks and if people want to race cars and motorcycles at high speeds then they should arrange to go to the appropriate places instead."
Cllr Murray said he hoped the summer months would not lead to a spate of similar incidents.
But he warned if it did, offenders could expect to be clamped down on by police.
He said: "You would expect that this sort of thing would occur on drier and sunnier days, but that is not an excuse and we don't want to see it.
"This activity is not something that I've been aware of happening on a regular basis.
"If it was I would be calling for a higher police presence in the area."
A police spokeswoman said they were aware of the footage.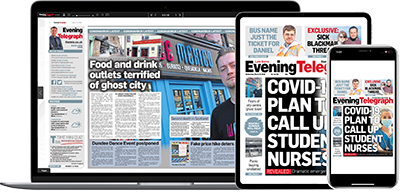 Help support quality local journalism … become a digital subscriber to the Evening Telegraph
For as little as £5.99 a month you can access all of our content, including Premium articles.
Subscribe