A scam letter being sent out by a German company could cost local businesses hundreds of pounds.
Trading Standards and Dundee and Angus Chamber of Commerce have warned about the letter, which has already cost several Aberdeen businesses £790 in a complex VAT scam.
Letters marked UK data control have been arriving at premises across Aberdeen and Aberdeenshire in recent days.
The demands ask bosses to sign a form confirming their VAT details are up to date.
It is only in the small print that it explains they are agreeing to pay £790 a year for at least three years, and then indefinitely unless the contract is cancelled.
It was only clear something was amiss when business owners noticed the return address was in Hamburg.
Alison Henderson, chief executive of Dundee and Angus Chamber of Commerce, said scams like this are more easily tackled if businesses work together.
She said: "If you receive a letter, we advise you to get in touch with Trading Standards or the Chamber of Commerce. In general, anything that looks suspicious or seems official and has a return address outside of UK should be brought to our attention."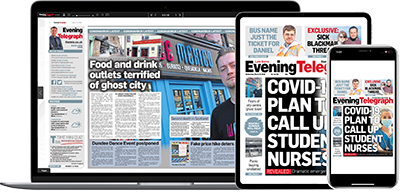 Help support quality local journalism … become a digital subscriber to the Evening Telegraph
For as little as £5.99 a month you can access all of our content, including Premium articles.
Subscribe