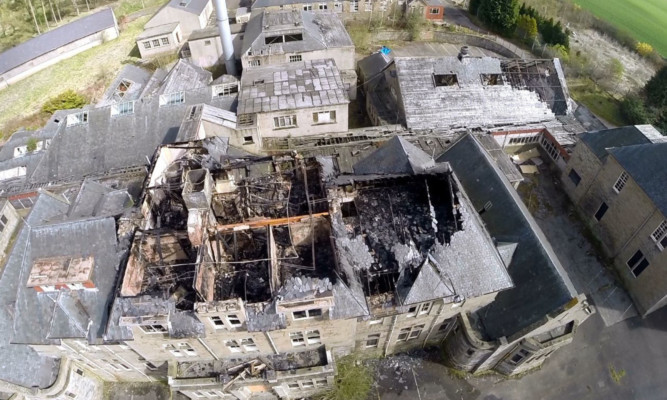 Multi-million pound plans for the former Strathmartine Hospital "hang in the balance" following a major fire that gutted the top floor of the historic building.
The hospital, to the north of Dundee, went up in flames on Monday afternoon and firefighters spent more than six hours tackling the flames.
Fire crews were today investigating the cause of the blaze.
Karen McAulay, a campaigner who wants to see the hospital preserved, said: "The bottom line of this devastating fire is that the £54 million proposals to develop the hospital hang in the balance.
"What has not been destroyed by fire has suffered so much water damage that it will cost a serious amount of money to repair. At this stage I wouldn't like to guess at the cost.
"I am waiting to hear from the structural engineers but from what I could see yesterday the roof and attic space is seriously damaged, and although the fire does not seem to have penetrated the first and ground floors, so much water has been pumped into the building that the weight of it could force walls to collapse.
"I stayed there until 8pm and watched as the fire brigade tackled the blaze.
"At times it seemed as though they were getting the fire under control but every now and again fire would take hold again."
Karen had highlighted her concerns in recent weeks that the property would be targeted by vandals.
She said: "I am going to speak to Angus Council straight away and ask them how we can move development plans for the hospital forward. I am not prepared to allow this to drag on for another year or two before a decision is made over what to do with the building something needs to happen soon."
Karen is hopeful that work can be carried out to repair the damaged windows and facade.
Developer Heathfield Ltd had plans to build 222 homes at the former hospital approved by Angus councillors following heated talks in December despite a series of objections, including from Dundee's local authority.
Now the final say will go to Holyrood following the decision to call in the application to redevelop the site, which has lain empty since 2003.
A spokesman for the fire service said: "This morning the aerial rescue platform from Macalpine Road was being used to dampen down the remaining hot spots.
"The crew members were using axes and small gear to cut away sections of the roof.
"Inquiries into the cause of the fire are ongoing."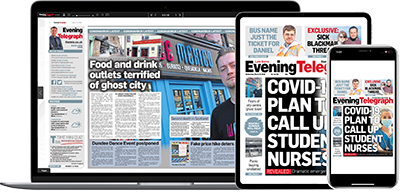 Help support quality local journalism … become a digital subscriber to the Evening Telegraph
For as little as £5.99 a month you can access all of our content, including Premium articles.
Subscribe