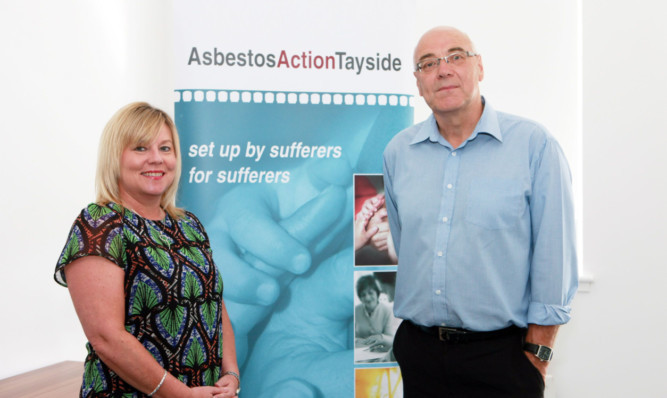 The number of people in Tayside who have died from asbestos-related illnesses has risen by 12% in just one year, the Tele can reveal today.
Figures compiled by Asbestos Action Tayside (AAT), a charity based on Dundee's Greenmarket, show that between April 2014 and this month, 53 people lost their lives due to terminal conditions caused by the deadly material.
That was a rise from 47 between April 2013 and April 2014, and John Fearn, a support officer with AAT, warned that the numbers are due to continue on an upward trajectory for the next few years.
In total, 161 cases were referred to the charity between April 2014 and 2015, up 4% from the 154 for the same period the year before.
And there was a rise to 44 people being diagnosed with either terminal cancer or mesothelioma from 43 the year previous.
The figures come just weeks after Tayport man Brian Houghton, 80, and Angus 70-year-old Robert Ross spoke to the Tele about the ordeal of facing just months to live after contracting terminal illnesses which were caused by being exposed to asbestos decades ago.
They and their families could be due a combined total of £170,000 in compensation from their previous employers.
Meanwhile, AAT's John said the charity was coming under more strain from the sheer number of people seeking support.
He said: "There's anticipation that the numbers will keep going up until about 2022.
"There will be people wandering around just now still unaware that they have an illness.
"The continuous rise definitely puts a strain on us and, as a result, we have taken on another part-time person to accommodate the rise.
"There are other areas of Scotland where the one-to-one access we offer people isn't available, so we try to extend that to Edinburgh, Stirling and elsewhere when we can.
"We would like to think it will completely stop but, as each generation comes along, there are more cases.
"We've had roof tilers, dockyard workers as you would expect, but now we are having a few where they are struggling to know where they got exposure to asbestos from.
"It could even be from DIY or people who are doing a lot of demolition work.
"Councils will say that the asbestos still in some schools and hospitals isn't a problem, but we are always concerned of the possibility of a pupil putting a pencil through a wall with asbestos."
AAT provides emotional and practical support for the individuals and their families who are affected by asbestos-related illnesses, but John wanted to stress that victims need to get in touch at an early stage to make sure they receive what they're entitled to.
He said: "It's a concern at the moment that we have people being diagnosed with pleural plaques, which isn't a terminal disease, but still affects you, and the people diagnosed don't do anything.
"They are entitled to a financial benefit, but there's a three-year limitation period that they have to make their claim, and some aren't being made aware of this in time.
"We find people who are diagnosed and referred back to their GP aren't being provided with all the information."
More information can be found at AAT's website asbestosactiontayside.org.uk.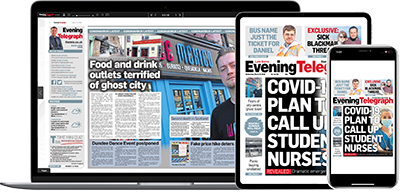 Help support quality local journalism … become a digital subscriber to the Evening Telegraph
For as little as £5.99 a month you can access all of our content, including Premium articles.
Subscribe