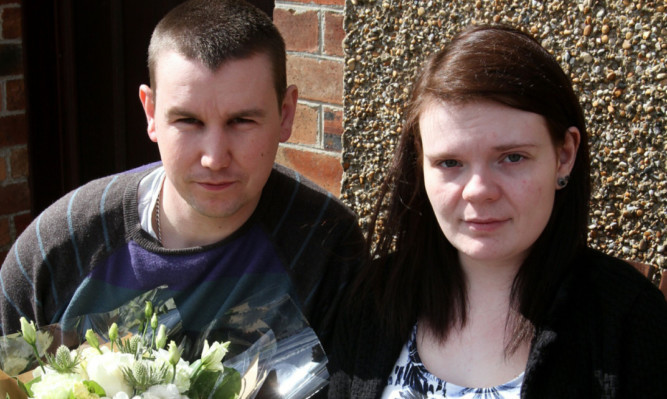 The heartbroken parents of a six-day-old baby girl who died at Ninewells have paid tribute to their daughter and to the staff who cared for her.
Craig Wallace, 29, of Kirriemuir, and his wife Lynsey, 25, were devastated when, only hours after daughter Niamh was born on April 4, they realised she was desperately ill.
The couple told the Tele of the desperate bid by doctors to save their baby girl and of their overwhelming sadness when they realised nothing could be done for her.
Craig said they could take comfort however from being able to be with her every day of her short life right up until she died last Thursday.
He said: "I was even able to read to her.
"I bought a story book The Rhyming Rabbit and read it to her every night I even read to her after she had passed away it was the one thing I could do for her."
Lynsey said she had enjoyed a normal pregnancy right up until the time Niamh was born three weeks early.
However, after Niamh's birth, doctors at the Dundee hospital realised she had a burst lung.
Lynsey said: "She was taken away immediately for tests and although I was told her lungs wouldn't have been a major problem it was discovered she had been born without any kidneys."
Niamh was immediately transferred to the neo-natal unit at the hospital.
It was decided she would be transferred to the Edinburgh Sick Kids Hospital and she was rushed off in a blue light ambulance with her parents following in their car.
Lynsey said: "I wasn't even able to hold her but to me she looked perfect, the spitting image of her big sister Caela, who is six."
Niamh was sedated and ventilated while staff carried out tests.
Lynsey said: "Sadly they decided nothing could be done for her and on April 9 we took her back to the neo-natal unit in Dundee.
"I thought we would have a little longer with her but we had only been back in Dundee an hour when she slipped away.
"The staff couldn't have done more for us or for our baby and although we have had a very sad ending we still want to thank them for everything they did."
Niamh's funeral is to be held at Parkgrove Crematorium at Friockheim on Thursday.
Craig and Lynsey are asking everyone who attends the funeral for a donation for the neo-natal unit and the couple hope to carry on fund raising for the unit in the weeks to come as a thank you.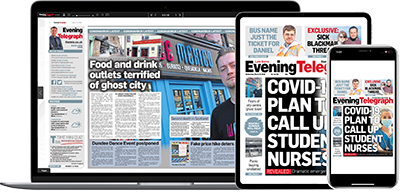 Help support quality local journalism … become a digital subscriber to the Evening Telegraph
For as little as £5.99 a month you can access all of our content, including Premium articles.
Subscribe