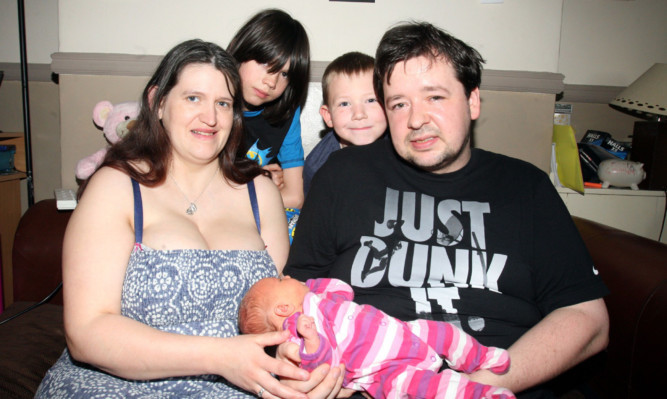 A Tayside man delivered his granddaughter in the back of his truck after the tot arrived while en route to hospital.
William Graham Sr had to pull into a bus stop in Glamis after his son's partner started to give birth in the back of his pick-up truck.
Baby Grace was delivered safely to parents William Jr and Frances at 5am on Saturday, and even local police officers helped to look after mum and baby until medical help arrived.
Mr Graham, 55, of Coupar Angus, said: "It all just happened that quickly.
"Nobody had time to think about anything, we just had to get on with it.
"We were driving to the hospital when my son's partner started to scream in quite a bit of pain, saying the baby was coming.
"We had to act fast, so I pulled up at the bus stop in Glamis, got out and opened the back door to be greeted by a wee head.
"I grabbed a towel and got on with giving the mother encouragement as she was delivering the baby.
"After the paramedics arrived, it was just a case of handing it over to them.
"The whole experience was once in a life time at no point did I ever think I would be delivering my grandchild at the side of the road.
"She's perfect and I'm still feeling absolutely brilliant."
Mr Graham had received a call from his son in the early hours to say that Frances was going into labour.
At 4am, he got himself ready, jumped in his Nissan pickup truck and drove to his son's in Kirriemuir.
While granddad was delivering Grace, William Jr, 30, was calling an ambulance.
The happy father said: "Everything was happening so quickly there was no time to think what to do.
"I was shocked and panicked about what was going on, but it all turned out great in the end."
After the drama, Grace and Frances were taken to hospital for check-ups.
"Everything was absolutely fine," William Jr added.
"Our new daughter Grace was perfectly healthy and so was mum we are so happy everything turned out the way it did. My dad was the saviour of the moment, so my thanks go out to him."
Inspector Ally Robertson of the Angus local policing area said: "We are absolutely delighted that the family are doing so well.
"I'm very proud of my officers who assisted – it's what we do."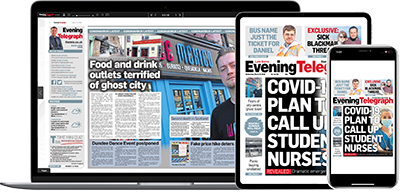 Help support quality local journalism … become a digital subscriber to the Evening Telegraph
For as little as £5.99 a month you can access all of our content, including Premium articles.
Subscribe